Mondelēz International is extending the Cadbury Dairy Milk Freddo Treasures brand with a Space Series theme and a white chocolate variety.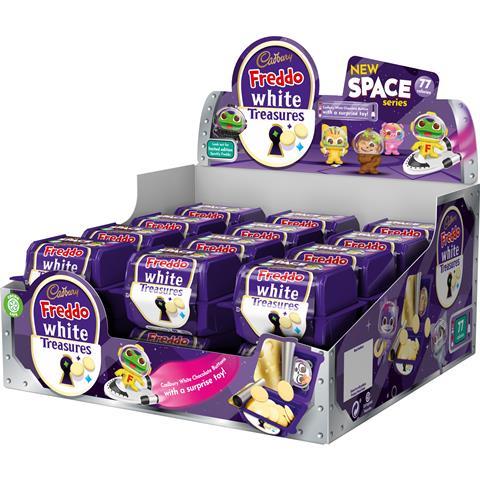 The Space Series will feature a new space themed design on pack and supporting pos material to help differentiate it from the first Freddo Treasures series. A new array of in-pack puzzles and toys is designed to give shoppers more choice and more reasons to purchase.
Rolling out this week is Cadbury Dairy Milk Freddo Treasures White, which will offer the same range of characters from the Space Series but with Cadbury white chocolate Buttons.
The rrp for both lines is 65p-90p per 14.4g pack.
Nicole Dudley, brand manager for Cadbury Dairy Milk Freddo at Mondelēz International, said: "Cadbury Dairy Milk Freddo Treasures has delivered tremendous success in its first year on shelf, as it was the number one NPD launch in Standard Chocolate in 2019. We're confident that the new Space range will continue the success of this incredible new product.
"In consumer testing, our Space series theme surpassed the performance of our first series, Hunters. We know that it's going to drive real excitement among shoppers and the space theme gives retailers the chance to create impactful displays in store.
"Additionally, we know white chocolate sales are rising as shoppers look for new options when they're looking for a treat. Cadbury Dairy Milk Treasures White will help give choice to those adult shoppers wanting to buy a different treat for others".