Four C-Store Champions discuss how perceptions of what defines healthy food have changed, and how they have had to adapt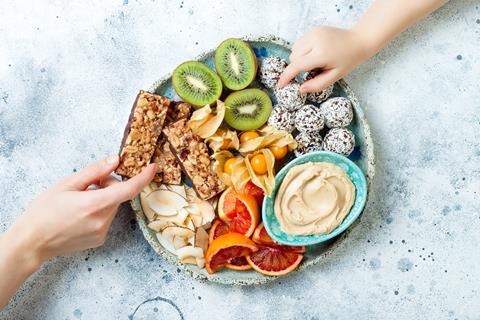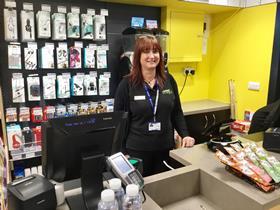 Sharon McDonald, Little Fresh, Pembrokeshire College, Wales
Providing a strong selection of healthier lines is key for the student-centric Little Fresh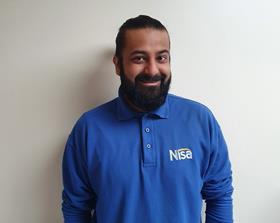 Jazz Goraya, Rosherville Post Office (Nisa Local) in Gravesend, Kent
Sales of vegan and vegetarian lines are booming at the store Jazz manages on behalf of his father Harry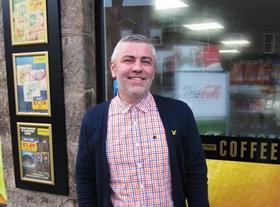 Scott Graham, McLeish Inverurie, Aberdeenshire
Scott has opted to integrate healthier lines into existing categories rather than create separate fixtures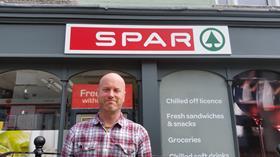 Ian McCabe, Spar Penryn, Cornwall
When Ian refitted his shop 18 months ago, he made healthier options a priority and now displays fruit and veg at the front of the store
How big a factor is health in shoppers' purchasing decisions and how does this compare with five years ago?
Sharon: The majority of our customers are students and they are getting more and more aware of health. In years gone by people just came in and had what they wanted.
Jazz: To a degree health plays a part; we've started doing more healthy products. Companies have changed things themselves – chocolate bars are healthier than they used to be and the sugar tax has meant that drinks are healthier. Vegetarianism and veganism have been very popular – the products are often higher in protein and lower in saturated fat. It's 100% changed, people are so much more conscious of health now.
Scott: Health is huge now. It's been a monumental shift over the past two years. Maybe a couple of years ago healthy was classed as a fad, but now it's mainstream and it's across all ages.
Ian: I think that we have a young clientele in the store and health is important to them. Free-from is doing well. The way food's going, the vegan side is growing massively. Some of the products we sell now, we'd never have dreamed of selling a few years ago.
How has perception of health changed in recent times?
Sharon: It used to be that girls would look at calories; now, they're buying vegan, gluten-free, low-fat and so on.
Jazz: I find it quite tedious, because it's so media-orientated – don't have salt, then don't have chocolate, then actually chocolate is good for you; red wine is bad, then it's good. I think everything is good for you in moderation. People's opinions are based on what they read or watch.
Scott: Education is obviously filtering through, whether through schools or through social media. We get 200-300 school kids coming in every day. You'd be amazed at how many turn around the sweet packets and look for salt, sugar and fat content on the labels. We do fruit pots with melon and grapes – they'll snack on those rather than sweets.
Ian: People are looking for other options to cook with outside of meat. We've just started with frozen options – the Linda McCartney range is doing really well – and it's a safer option with wastage. It's all about phases and what's in the media. We went through a stage where protein was big, but we've reduced it again. We have a range of free-from, too. Demand for that has stayed the same.
What kinds of shoppers are actively seeking out healthier lines?
Sharon: It's not any one age group – it's across the board. It's quite surprising. If they're looking at what they're eating we have to follow and try to get items in that they want.
Jazz: It's a mix of everyone. Before I'd have thought it was particular people going down that avenue such as gym goers or activists, but it's everyone. For example, I have a lady buying more vegetarian products just because she thinks they taste good.
Scott: It's the younger generation we're seeing the most awareness in, both male and female.
Ian: All of them – it's not just the young. Older people used to eat healthily because they didn't have all the rubbish we had. Younger people are coming away from drinking and smoking.
To what degree do you view it as your responsibility as a retailer to provide customers with healthy options?
Sharon: I think it's our responsibility. At the end of the day, I'm lucky because healthy options actually sell – if things aren't selling you can't keep them.
Jazz: I don't think I have an obligation to provide healthier foods, but if it's a trend then we have to look at it. I want to do it to grow my business. I have a large section of healthy and vegan products and customers come in for these and buy other things, too.
Scott: As a retailer we're there to offer a choice. As long as we have an adequate range in store then if they want to buy a Mars Bar, that's up to them.
Ian: Massively, I take that very seriously. We always have fresh fruit and veg at the front of the store and by the till. I just cannot stick rubbish everywhere. You have to have a conscience about all this; I want to offer the community healthier options. If you can offer that you'll get people in your store who didn't shop there before – and there are opportunities for better margins.
Which categories do you think hold the most growth potential for healthier lines?
Sharon: Maybe chocolate and sweets. We stocked sugar-free sweets, but they looked old-fashioned and didn't really sell. If suppliers could do more reduced sugar lines that could be interesting.
Jazz: Chilled and fresh hold the most potential and that's going to get bigger with veganism and vegetarianism.
Scott: For me, it's snacking – cereal bars, crisps and snacks, nuts and so on.
Ian: We're pushing all the time with meat-free. It's in massive uplift at the moment.
How do you encourage uptake of healthier products?
Sharon: We try to promote new ranges. We have one shared area for vegan and gluten-free snacks with stickers for each line, and anything new is flagged up with POS. We put apples in our meal deal, but they don't seem to go.
Jazz: I'm honest about the stuff I carry and I try products myself. I talk to customers about them – if I see someone looking at healthier chilled lines I tell them what I've tried. I see what my customers think – find out what they do or don't like about a product. With the Gro vegan plant-based foods I've got POS. Hopefully that will catch people's eyes.
Scott: With snacking and cereal bars, General Mills has driven it with shelf-stripping. We don't really dress it up, we just offer a good range and then let consumers make the choice.
Ian: We have POS for 'three for £1' on fruit, such as apples, pears and bananas. People know they can get a bag of bananas for 99p. Spar has just supplied us with POS for vegan lines, which has been a brilliant idea. I've been pushing Spar quite hard with promotional bays because they're still full of unhealthy foods.
What are the barriers to selling more healthy products?
Sharon: We can only sell what's going to go here and now.
Jazz: The cost – where people are struggling with money at the moment not everyone is willing to spend. If it's just for themselves it's one thing, but if they're buying it for the family it's expensive. I do beetroot burgers, mushroom sausages, quinoa and kale burgers. The burgers are £2.99 a packet and you get five in a pack, whereas beefburgers are £1.90 for four. It also takes time to prepare a healthy meal – sometimes people just want something quick and easy, such as pizza. It costs £2.50 and fills two or three people.
Scott: It goes back to advice. Do retailers know what's healthy and what's not? We need a steer in the right direction.
Ian: Some people are very set against trying things. Once they have tried them they often like them. Price is also a barrier, some lines are very expensive. Tree of Life has some lovely products, but with the retail price you think 'I'll never sell that'.
What advice can you give to retailers looking to improve their offering of healthier lines?
Sharon: It's about listening to your customers or having a suggestion box and finding out what they want. We have the same students in every day and we get to know what they like and they feel comfortable asking us for items, such as Naked Noodles and Itsu Noodles, and popcorn which is low calorie and low fat.
Jazz: Sometimes you have to take a risk – you'll never know if you don't try. If you try something and it doesn't take off, don't write it off. Leave it a couple of months and try it again.
Scott: Look at specific categories, such as crisps and snacks. Are you offering a healthier alternative like baked or Sunbites.
Ian: With fresh lines, it's all about keeping the quality high. With salad bags, for example, that means you have to have volume.
How do you think that the health trend will evolve over time?
Sharon: With lines such as chocolate I think we'll see healthier versions. Just look at how veganism has taken off – everyone is becoming more aware. The more options you have, the more you sell.
Jazz: If I knew that I'd be a rich man! It could grow, or it could just be a trend. With the environment we're in, we're dictated to by what the consumer wants.
Scott: It will just keep on growing because it's not just coming from stores. There are more gyms popping up, many people who were smoking 10 or 15 years ago have given up, and non-alcoholic beer is growing.
Ian: The government is on to it now, bringing in government policy for us to be healthier, so I think it will continue to grow.
How do you display healthier lines?
Sharon: We have a whole stand of healthy snacks. Nut snacks are on one shelf, then we put all the veg crisps in a row. We try to keep all the yogurts and fruit together, and chicken pieces. That way products for different dietary requirements are together. We try to promote what we've got so that people can see them in one place.
Jazz: I put healthier snacks alongside standard lines. The beetroot and raspberry bar is next to other cereal bars. I don't want to create a section just for healthy snacks as people might not be looking for that, but they might try them if they see them.
Scott: Some retailers might have a dedicated vegan or free-from section, but we now bring these products into the general category that they belong in.
Ian: We have a small free-from bay and have healthy options dotted around the store. We're coming to a point now where we'll re-organise things to create a vegan area in ambient.
How has your offer changed in recent years to accommodate healthier products?
Sharon: We have a lot of gluten-free, vegan, plant-based and reduced-fat lines, and we do healthy bars and snacks. Fruit doesn't go down as well –fruit pots seem to go down better than whole fruit. We sell a lot of sugar-free drinks and vegetable crisps such as French beans, beetroot, sweet potato and chickpea snacks. We've started doing sushi recently and that goes really well.
Jazz: We sell so many health drinks: Nurishment; V-fit; and Fuel. I also sell a raspberry and beetroot protein bar with low sugar. Some lines have only just come out – a new [Co-op] brand called Gro is doing frozen and fresh plant-based lines such as beetroot burger, meatballs, sausages, chilli – all vegan.
Scott: Within confectionery I have one metre of healthy snacking. We used to have healthy products around the side, next to sandwiches. Now there's a whole run of it so consumers have a choice. Within crisps and snacks we've added more baked snacks in the past year. There's been a surge on cereal bars – we had one shelf, now we have a whole metre bay of them. We're looking at installing a help-yourself salad bar. Should we be looking at the loose refill offers, there's an option to get seeds and nuts. Within our food to go we offer healthier mayonnaise within sandwich fillings.
Ian: We joined Spar three years ago and did a refit in September 2018, with healthier lines one of the things we took into account. We greatly increased our fresh offer and meat replacement products, and put in five metres of extra chillers. We also revamped our fruit and veg and put it in boxes to display it.