Tipplesworth has created a new Passion Fruit Martini mixer that can be added to vodka to create an alcoholic cocktail.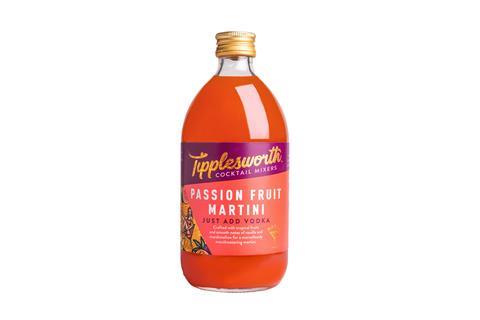 The new variant is available to independent retailers directly from Tipplesworth and carries an rrp of £6.99 per 500ml bottle (10 serves).
The drink combines passion fruit, guava, pineapple and lime, balanced with smooth notes of French vanilla and marshmallow. As with the rest of the range, the drink features ingredients which are crafted in small batches in London. It can be prepared by adding vodka, shaking hard over ice, and straining into a martini glass to serve.
Tipplesworth founder Frankie Snobel said: "We're so excited to be launching our Passion Fruit Martini just in time for the summer cocktail season. We know the Pornstar Martini is the UK's most popular cocktail (with over 14% of the market share) so it made sense for us to add our delicious twist to this cocktail classic.
"The Passion Fruit Martini took us over six months to perfect, in terms of both flavour profile and presentation, and we're proud to have created a quality product that delivers a long shelf-life without compromising on ingredients or taste"