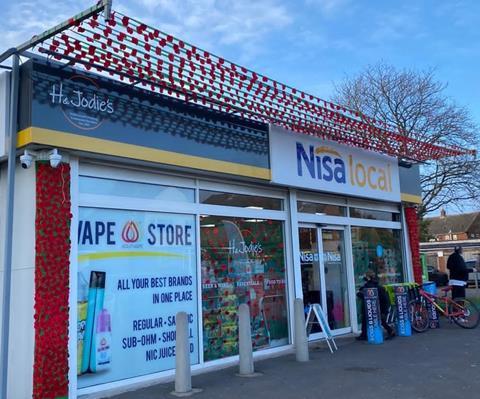 A Nisa retailer has enlisted the help of the local community to craft a giant poppy display for the Royal British Legion in time for Remembrance Sunday.
The canopy of poppies has been draped on top of the Nisa Local store in High Heath, Walsall.
Owner Amrit Pahal said the idea came from his brother and father as a way to get the community involved and get customers "art and crafty".
The retailer has been handing out poppy templates along with packs of red and black felt for customers to create the hand-made poppies.
"We collated all the poppies that everyone has made and created a massive display with the hope of raising some serious awareness," he said.
"Charities at the moment are suffering. They can't do fundraisers, they can't get involved in the marathon – so the backlash of lockdown means their revenues are at an all-time-low."
But since Pahal voiced his appeal on Twitter, he saw word of mouth spread.
"Our packs of felt just flew out," he said. "We prepared 300 to 400 packs ready to hand out to people."
Pahal said a total of up to 4,000 poppies were made by the community.
On 6 November, Alf Turner Butchers and Help For Heroes were supposed to be visiting the store in a bid to raise awareness of the cause.
Pahal said Coca-Cola, Heinz, Mash Direct and Kind snack bars had provided him with free stock for the charities to sell and raise money.
He told Conveniencestore.co.uk however that the charity event had now been cancelled due to second lockdown although the poppies will still be displayed.
"We will rearrange," he said. "And we had enough poppies to create our community display to show our support for our local heros."