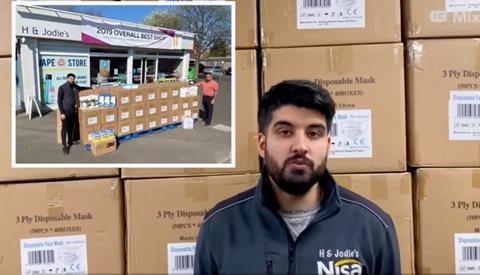 Nisa retailer Amrit Pahal has offered to donate £30,000 of PPE to charities or community organisations after being let down by the Department of Health and Social Care.
In a video posted on Twitter, the Nisa High Heath retailer explained that in April during the early days of the Covid-19 lockdown, the store bought £110,000 worth of PPE to supply to the NHS at cost price. He went on to say that despite Department of Health and Social Care procurement teams confirming that the PPE was being supplied at cost, the arrangement fell through and "they went silent on us".
Amrit felt that given the amount of money spent by the government on PPE through other channels they were "never on a level playing field" and the business was left with an abundance of PPE equipment.
In an effort to make the best of the situation, Amrit is offering it to those who need it and encouraged any charity or organisation that needs PPE to get in touch via this link.
"Our hope is that this gesture will enable the PPE to get to those that most need it," said Amrit. "If you are a community organisation or charity struggling with the cost of PPE, we want to help you.
The Department of Health and Social Care has been approached for a statement on the issue.
During the early days of the pandemic, Amrit and his father Harjit donated hand sanitiser to local schools before they were closed for lockdown.