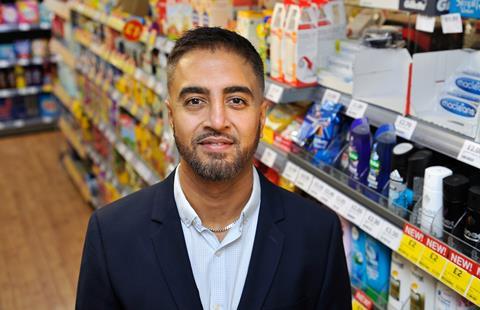 Since lockdown began in March, independent retailers have been working hard to supply their communities. Although some measures have relaxed, the retailers are still working as hard to keep things going. Atul Sodha of Londis Harefield in Uxbridge is just one of these retailers. Here he explains how he copes with the workload.
"I've had about 17 weeks without a break and I'm feeling it now. I've had lots of support from other retailers, and we all talk regularly. For my staff, it was important to find a balance of how you get some rest but I didn't apply that to myself. I felt there's too much going on and you can't afford not to be on top of everything."
He advises any other retailer that is struggling to talk about their problems. "Share it. Share all your issues. There are so many retailers in chat groups that share all our problems and banter and it lets you know you're not the only one. It's like therapy.
"At the start I was doing 100 hour weeks. Everyone stepped up but we had to say to ourselves that this was getting ridiculous and we needed proper rest and downtime."
To help cope with the workload, Atul shifted his opening hours to allow for a rest. "We started opening at 7 rather than 6 which made a big mental difference as I was getting up an hour later. It's non-stop until 3 or 4 o'clock. One shift I completed 14,000 steps in 600sq ft store."
We worked so hard to serve our customers because it was the right thing to do.
Despite this workload, Atul said it was a unique opportunity for the sector. "Maybe I'm being a bit of a martyr but I kind of enjoyed it as it allowed us to excel and show people what we were capable of. And that when we were needed, we were there for the community and they in turn were there for us.
"We were up 150% at one stage and we're still by about 40% depending on the weather but we've made ourselves more relevant to the community. We worked so hard to serve our customers because it was the right thing to do."
"It's going to remain at a certain level. I keep reminding people when I do talk to customers is that because of the support they're showing us I'm able to employ more staff and put something back into the community."
He said it was a learning experience for him and his team, particularly in ranging. "I'm part of a lot of retailer forums and we used to discuss category management regularly. It all went out the window. Retailers were stocking products they would never have considered before like coconut sugar or some of the flours when everybody was baking at home.
"During lockdown customers were coming to us for everything. Our basket spend nearly doubled during lockdown and has maintained at £3 above what it was before. That increase allows me to keep the expanded range of products because now I know what they want."
Home baking
With the nation making banana bread en masse, convenience stores had to be ready for some unusual requests. "Home baking was just one category that exploded. Our exotic fruit and vegetable range grew as well. We were stocking okra, seasonal mangos from India and spices that we never had before."
How do you manage the workload? Let us know at aidan.fortune@wrbm.com.