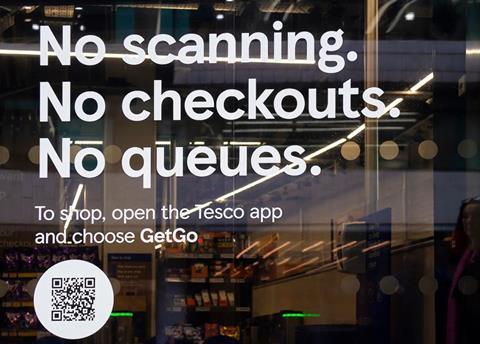 Tesco has opened a checkout-free store in central London.
Dubbed GetGo and located in High Holborn, the technology allows customers the opportunity to shop and pay without scanning a product or using a checkout.
The rollout of this technology at Tesco Express High Holborn follows a trial at Tesco's colleague store in Welwyn Garden City in 2019.
The 2,500sq ft store has 2,500 SKUs and was chosen due to its central location with a high proportion of customers being young professionals and tech savvy individuals.
Tesco has worked with technology expert Trigo on the store. Trigo's system includes a combination of cameras and weight-sensors to establish what customers have picked up and charge them for products directly through the app when they leave the store.
There will be a section in the store specifically for age-restricted products, with a separate exit where colleagues will manually check ID verification.
In a blog, Trigo CEO Michael Gabay said: "This store is the first of its kind in the world – an existing store that was transformed into a completely autonomous, cashierless store. Customers will enter their local Tesco Express, with the layout they know and love, and easily shop and navigate throughout the store as usual. The only difference is an improved, seamless experience.
"It is an exciting use case for how our technology doesn't require a tailor made, built from scratch store to be completely autonomous. Shoppers like to go to the store where they feel at home, where they can effortlessly find the items they are looking for; an experience Tesco has already created by being very intuitive and shopper friendly. By infusing our technology into the existing store, shoppers don't lose the familiar feeling they have when visiting the store, they simply have a quicker, modern, more efficient experience."
Tesco convenience managing director Kevin Tindall said: "This is a really exciting moment for Tesco as we launch GetGo with customers. We are constantly looking for ways to improve the shopping experience and our latest innovation offers a seamless checkout for customers on the go, helping them to save a bit more time. This is currently just a one-store trial but we're looking forward to seeing how our customers respond."
Chief technology officer at Tesco Guus Dekkers added: "We're excited to bring this new technology to customers in London. This new proposition will save customers time, removing any friction from the checkout and offering even more convenience for shoppers. Working in partnership with Trigo, we have combined the range, quality and value of Tesco products with the latest in-store innovation and we can't wait to see how customers respond."