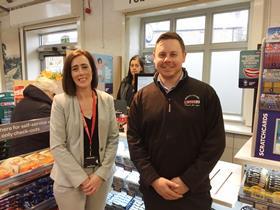 Spar Calver in Derbyshire has adopted Henderson Technology's epos system, Edgepos, which the Northern Irish group is looking to roll out across the UK. C-Store talks to store manager James Stead and Henderson's Kristine Moore to find out more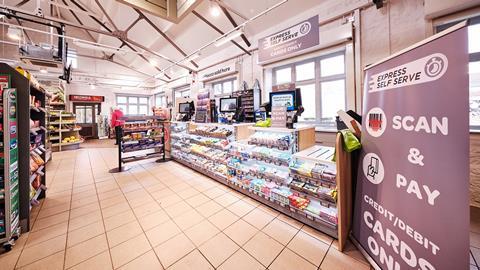 When Spar Calver was revamped in November last year, owner Edward White also opted to update his epos system to help drive efficiencies ahead of the opening of a Co-op Group store nearby. The vision was for the rural store in the heart of the picturesque Peak District to be at the cutting edge of convenience retail and technology.
So it was a happy coincidence that Northern Irish Henderson Technology had just decided to look for customers on the UK mainland for its Edgepos system. "It is exclusive in Northern Ireland to Henderson Group retailers," says Kristine Moore, Henderson Technology retail technology channel manager. "But last year we decided to put Edgepos to sale in the mainland. Spar Calver is one of the first."
For store manager James Stead, Edgepos has significantly improved back-office efficiencies, enabling him to spend more time on the shop floor. "The last thing you want to be doing as a manager is sitting in the back office without time on the shop floor. Before I'd be spending time pulling off the sales reports, copying all my sales data across, and with promotions I'd be putting them on the products manually," he says.
"I can save myself a whole day a week now. We have the flexibility to change prices now – with the previous epos the pricing was set."
Moore adds: "The back office is completely comprehensive. We tailor it to each individual retailer's needs. You might use 5% of the reports, you might use 20%, so whenever we do the training we do a gap analysis, so we look at how each store operates and how Edgepos fits into that, and then we do a training plan and make sure everything's unique to that retailer.
"The report scheduler is another thing which is relatively new. Retailers can have all their reports emailed to them on a Monday morning."
The system also enables James to program local products into the till. "We've got about 35 local suppliers and a lot of things don't scan. With the previous epos it was a bit of a nightmare. We used to have lists everywhere and had to enter the pricing. With Edgepos you can create your own groups with pictures – so, for example, with local supplier Bridge Bakehouse you press the picture and then the item you want to select. You upload the pictures yourself and put all the details in. It means a lot fewer mistakes," James says.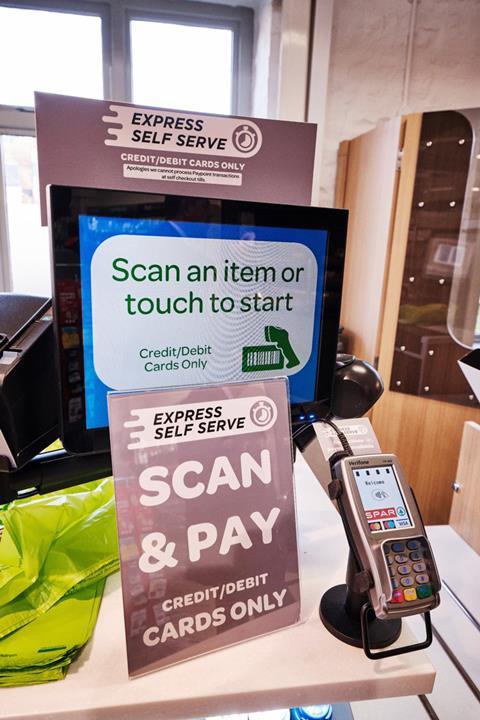 The self-service checkout has been a big success in reducing queues. "We asked our customers and the one unifying thing they didn't like was queuing," James says. "We always had three checkouts, but to staff three full time can be a bit tricky. Now we always try to keep two people on the till, but one person can review the self-service."
The self-checkout technology was launched in August 2018. "We developed it ourselves. We wanted something easy to use, that didn't take up any extra space and fitted in with the store and was multi-functional," says Moore. "At any stage it can be used by a cashier, or when the store's quieter switch it into self-checkout mode."
Henderson Technology has also "developed a link" with Booker and three of the five UK Spar wholesalers. "We're also talking to two other symbol groups at the moment," she adds. "We're more than willing to talk to anyone outside Spar."
The system includes the back office element, including reports and automatic ordering, and the front-end element which includes a self-serve checkout, advanced age-checking functionality, label printing and the option to offer in-store coupons. Moore says about 70% of the development requests have come from retailers. "The guys here said 'wouldn't it be good if the self- checkout could give out in-store coupons'. We had it developed for them because it's a really good idea," she adds. In-store coupons can be interchanged between the store and Edward's forecourt store opposite, which adopted Edgepos in February.
She says there are three key benefits to the system: operational efficiency and ease of use at the front end; system security; and business development. Regarding security, Moore explains: "Everything's fully integrated and secure – there's no third party such as PayPoint or credit card terminals, everything's fully integrated – and the fuel also. Everything's recorded from the back office. It's a live system with an audit trail, so there's no hiding. Everything that's done you can see fully.
"With business development, it's about how you use Edgepos and all its reports to grow your business."
As for Edgepos' impact on sales and footfall at Spar Calver, it's hard to quantify. Sales are up 10% since November – which also coincided with the store relaunch – but James has more operational control as manager, efficiencies have improved and, crucially, staff are happier, James says.
"The older staff love it now they're used to it," he adds.
Ubamarket integration
Henderson Technology is set to integrate the Ubamarket shopping app into Edgepos. It will be trialled in a few sites before being made available to all Edgepos users.
Ubamarket enables shoppers to create shopping lists on their phone, guides shoppers around the store in the quickest way possible to get their items, and scans their items as they shop, all on their phone.
Henderson is also launching a Daily Deli app for Spar retailers, which means shoppers can sit at their workplace or home and order a meal. "It's pre-ordered and pre-paid for, and they're just coming to the store collect it," Moore explains.