From repeat purchases to supplier sampling events, introducing a countertop and a few chairs can boost business in more ways than one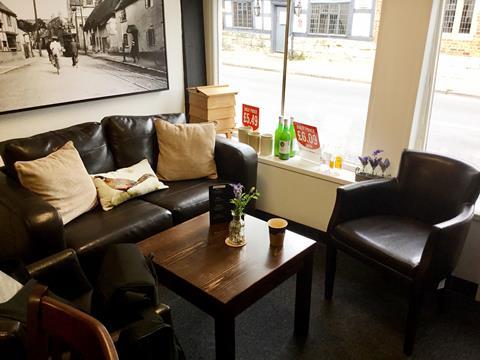 Dedicate all your floor space to products and people will come in, buy what they need and go. But create an area for people to spend time in-store and they will not only buy more, but also create an emotional attachment to the store, generating long-term loyalty and sales.

With grocery sales falling in many stores, numerous retailers are re-thinking their space and seating areas are becoming a common addition. "I'd seen them in quite a few convenience stores - the M5 Gloucester service station, Ancoats General Store in Manchester, and at Eat17 in London," says Budgens Kenilworth owner Sid Sidhu when discussing the inspiration behind his new seating.

"We wanted to use the space within the store for different ideas, different footfall drivers, different missions. We didn't want to sell more product," he says. "When we redesigned the store, one of the key objectives was to condense ambient space (down by 21%), and we thought about what we could do with the space which worked alongside what we were already doing, adding value to the site and creating a community space."

Jerry Tweney was also looking to introduce a non-food addition to Prestbury Village Stores in Cheltenham. "Because we were starting from a very low sales base because of the decline of the store in the previous six years before we took it over, we thought it would be better to use it as a coffee and seating area rather than spend a load more money putting more shelving in, adding to our cost."

Jerry had a firm vision of what he wanted his seating area to look like. "We didn't just throw it together in five minutes!" he says. "We looked for some nice oak tables with old fashioned dark wood in keeping with the building and put a black floor tile down to make it a completely separate part of the store. We also put up some very old pictures of Prestbury from yesteryear, including photos of the shop from the early 1900s."

Meanwhile, Chaz Chahal has opted for a relatively modest approach at Simply Fresh Drakes Borough in Warwickshire. "We've got a very basic seating area - two round tables with a few chairs round it," he says. "If it takes off we have space for a couple more tables. If it doesn't work we've got the option of flexing it and putting seasonal products there."

He explains that he is playing it safe for now. "We've not gone into it wholeheartedly with bench seating screwed to the wall, we're just dipping our toes in for the time being. If it works then a year later you can maybe invest some more money and change it, but there's no point in going from zero to 100 if you don't know what 50 looks like."

Sid has also opted for an even more space-efficient solution. "We have just four bar stools and the counter is about 2.5m long," he says. His key focus was to make his seating area as flexible as possible. "We thought the bar needed to serve different need states for different parts of day and seasons, so we've made it mobile - it's all on castors. Even the people who designed it - a company in Wales called AT - said they hadn't done anything like it before.

"The idea behind that was we can actually move it outside or leave it in situ. It really is very flexible. It cost a lot of money - £1,600 - but you want it to look the part, so that it encourages people to sit down."

Of course, the general idea is that seating creates a welcoming ambience, whilst indirectly increasing sales. "When we relaid the store I felt we had a nice opportunity at the front of the store to keep some space free by the window that would keep the perception that there's a nice vibe in the store to see people sat down conversing with friends," says Chaz. "This is a village, a locked in area, and we're perceiving - based on what we've read in Convenience Store and the way that customers interact with stores - that we can make a little hub. People might buy fresh coffee and a snack to go with it, maybe read a paper or meet with friends."

It encourages dwell time and repeat purchase, adds Sid. "They're more than likely to spend a) money and b) more money. People will buy something to consume on site and before they leave they'll buy something again. That's the benefit of putting things in place that allows them to stay on site for longer."

But a seating area can offer a multitude of functions. While Jerry's initial concept was for customers to help themselves to hot drinks and a bite to eat, he has now expanded to a small tea offering. "My wife suggested offering tea and coffee with a tea cake and cream teas. We use local tea cakes from North's Bakery and we put their scones with clotted cream and a small jar of jam in a pack with a knife and plate."

He finds that the area provides him with the perfect platform for a little ad hoc market research. "It's a great way of meeting customers, and you can chat to them about what they like and how the village sees your business," says Jerry.

With a few minor adaptations, a seating area can also become a workspace. Peter Evans, managing director of Third Space Solutions, which specialises in installing meeting lounges and work zones, is convinced that convenience stores have a huge opportunity to cash in on remote workers. "Starbucks is a coffee shop, but in effect it's now become a workspace, so my notion of looking at how retail can adapt itself to appeal to Millennial/ Generation Z is that everywhere can be a workspace," he says. "There's no reason why a small retailer could not adapt itself to create a space where someone can come in, grab a coffee, plug their laptop in, or plug their phone in to get some charge in between a meeting or a work assignment."

He advises retailers to consider their demographic and whether there might be demand for such an offer. "If stores are in a location where there's a high student population or an element of young professionals, the opportunity to create a window bench which might seat two or three people is an instant workspace," he says. "Add a Costa machine and you've got something that will draw people in. From a retail business perspective, you've got footfall, you've got spend, and you've got the opportunity for increased spend. It's all down to space utilisation and what the retailer is trying to achieve."

Sid has done just that. "Our counter top is just wide enough to put a tablet on. Everyone has tablets and netbooks, which are a lot thinner in profile, so I've made it very thin and chic," he says. "We've put docking points there, it might actually be that people want to charge their iPhone and while they're waiting they're more than likely to have a drink or eat something, or do a shop. It really is about giving the consumer more reasons to spend time on your site.

"We had wi-fi here anyway so giving it to customers was straightforward. We just had to give them an access code. Once you've done that, it will be saved on their device, so they know next time they come in they can get straight on wi-fi without asking for the code."

And when seating isn't being used by customers, there are plenty of other options. "For me, supplier involvement was one of the key parts of bringing in the seating," says Sid. "Companies are looking for people who want to take promotion and marketing of the brand to the next level with tastings and creating a bit of excitement around the brand and bringing the fixture to life in-store," he says.

Inviting suppliers to use the area also ensures that the seating area is still being used when it would otherwise be empty. "During the day it's frequented and used. Later in the day, people just want to grab bits and go, so then you can use it to do sampling," says Sid.

"We're going to be working with premium juice Savse. Suppliers are looking to work with stores like us that have a space. It's going to be win-win for us and them. Actually, it gives you a one-up on the competition. The fact that you have this facility and encourage suppliers to make use of it works really well. When you promote it on various platforms then other companies get involved. I've been contacted by Kepak because they'd seen what we've done and they'd like to work with us. It all benefits my business."

Jerry agrees that the seating area makes for a useful supplier platform. "It is a very good meeting point for people and for me for suppliers, visitors and events. It's actually turned out to be multi-purpose. We're just sending out invites for a cheese and wine tasting event. We've just taken on Paxton and Whitfield Cheese and we have an extensive wine range so we're going to have a little gathering there."

Creating a community hub was also central to Jerry's seating plans. "When we did our research before we took the store, people said that years ago the village store had a small seating area that was used as a meeting point, a book club and by church groups," he explains. "It was driven by the local Women's Institute [WI] and church. They'd stopped using the store a while ago and they encouraged us to do it. They said there was nowhere to go for morning coffee or to meet up with friends, only public houses and they didn't want to use them."

Locals have now fully embraced the area. "We have various church events in there, the council have used it for meetings and the Prestbury Historical society, and the WI have held an event there at Christmas," he says. "It's become quite multi-purpose for us."

Sid has also offered his seating area up for community use. "We've had the local Neighbourhood Watch Scheme meetings here," he says. "These people are all potential customers. You're entwined within that neighbourhood fabric so it's great to be at the centrepoint and for people to associate your store with that. It's another form of marketing and it doesn't cost any money, just time and effort. "

Chaz urges retailers to take the time to consider whether their store is suited to a seating area. "Every store is unique in terms of the size and footprint. You have to have the right location, demographics and size," he says.

Sid advises retailers to start small when installing seating. "You have to remember that we're first and foremost a convenience store. People won't come to your site for the primary reason of sitting down for a coffee - those types of store will be few and far between."

And if you do decide to install seating, you have to be prepared to make the space work for your business. "You really have to work hard at it - to market it for different parts of the day and different days of the week/weekend," says Sid. "We're constantly looking at how we can utilise it. With every inch of space in store you want to sweat your assets."
Seating made easy
Getting the basics right
All you need is a table or bench, two or three highchairs and suddenly you've got a counter. A good carpenter can make something specific to the store. You can set it up for less than £1,000.
Space
6ft by 3ft of space would comfortably seat three people.
Location
In many stores, windows are blocked out and there tends to be shelving there. You could make the window open, allowing people to see in and have people sitting at the window.
Extras
For many, people it's as much about access to power as it is about space. Coming in to a retail store to charge your phone would be nice and if it's linked to a coffee and a seating area to do some work, it's even more of a magnet. Wi-fi doesn't cost much money - between £20 and £30 a month depending on the speed you want to offer people.
Source: Third Space
Trends
Ticking boxes for the older demographic
Installing a seating area could also act as a big draw for elderly shoppers, according to shopper research consultancy HIM.
"Human interaction is what gets older people into shops and there are many ways of enabling this, for instance by providing seating areas," says HIM's head of insight and innovation, Heidi Lanscheutzer.
HIM data shows that consumers aged 65 years and older make up almost a quarter (23%) of total c-store shoppers. What's more, the average basket spend in the 65-74 age group is £6.50 - compared with £6.29 for 25- 34s - making them valuable customers.