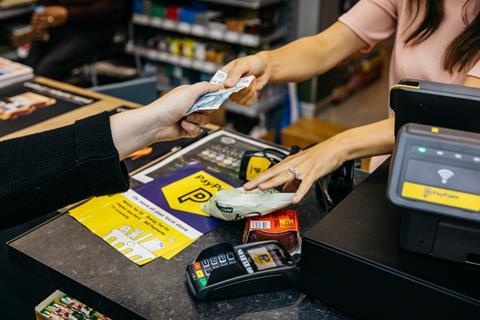 PayPoint and Snappy Shopper have entered into partnership to allow retailers to offer a home delivery service.
Launching in July, the tie-up will see PayPoint One retailer partners given access to the Snappy Shopper platform and the ability to offer customers a home delivery and click and collect option.
Through the partnership, the PayPoint One system will integrate directly with the Snappy Shopper platform, meaning there is no need for additional kit or technology for retailers that sign up.
There will be a suitability check for retailers which PayPoint said is designed to ensure that a store has the potential to operate a delivery service profitably.
Chief executive of PayPoint Nick Wiles said: "The pandemic has accelerated two key trends in retail: support for local retailers and demand for fast, convenient fulfilment. Our partnership with Snappy Shopper caters to both of these, meaning we're not only future-proofing our own business but we're helping our PayPoint One customers to do the same. This collaboration is a firm statement of our commitment to the convenience retail sector."
Speaking to ConvenienceStore.co.uk, Wiles said he expected as many as 5,000 of the PayPoint retailer network to avail of this new partnership. "This won't work for all of our retailers and this is something we will talk to them about but it's very much their decision. For those retailers who see value in a home delivery service or click and collect service, this is a tremendous partnership but we would never look to compel retailers to do anything.
"I would have thought that within our network there are probably between 2,000 and 5,000 retailers for whom this will be an attractive service, and for those retailers it will bring more business to their store and more profit to their bottom line."
He added that there will be flexibility on the partnership, particularly if a retailer decides to stop working with PayPoint. "If a retailer doesn't want to work with PayPoint anymore but wants to continue with Snappy Shopper, we'll have to find a way to make it work for them."
PayPoint is already in partnership with Deliveroo, however Wiles admitted that it hadn't gone as well as expected.
"We've had some success [with Deliveroo] but what we're talking about with Snappy Shopper is much more integrated. Deliveroo was a great introductory model for us but in truth some of our retail partners have become a bit uncomfortable with the model and we haven't had the enthusiasm from the convenience sector to partner with Deliveroo that we expected.
"Probably for us, and the convenience sector, the partnership approach of Snappy Shopper sits better with us and our retailer partners."
Snappy Group COO Mark Steven added: "We're excited to be partnering with PayPoint, to continue our mission to give more communities on demand access to the products of local businesses. Integrating the Snappy Shopper platform with PayPoint's EPoS makes it considerably more efficient for retailers to fulfil their home delivery orders with us and increases the potential revenue uplift. Our platform is based on genuine partnership and mutual benefit, and we are pleased that, together with PayPoint, we can equip retailers with an affordable and high performing tech solution to compete in the fast-changing home delivery market."