The Federation of Independent Retailers (NFRN) has signed an agreement with mobile app Jisp which will see a number of independent retailers trialling a suite of digital sales solutions over the coming weeks.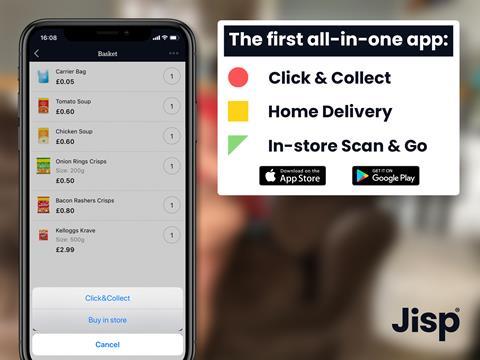 The Jisp platform enables retailers to provide same-day home delivery, click & collect, mobile payments and in-store Scan & Go services on a single app. In-store barcode scanning using shoppers' smartphones and secure payment via the app has generally only been available at major supermarkets until now.
Julian Fisher, ceo of Jisp, said: "We are delighted to become the big voice for smaller businesses wishing to kickstart their digital presence with Jisp solutions. With the ongoing pandemic many people have turned their attention to cashless purchases and online shopping, leaving local retailers and businesses struggling against the might of retail giants and supermarkets.
"Jisp was not only able to answer the call for contact-free shopping behaviour but meet the needs of the Federation in a very short time. We are looking forward to this fantastic partnership that establishes a new benchmark for customer engagement and communication."
Stuart Reddish, NFRN national president, said: "COVID has accelerated digital in retail and, given the current complexities of serving customers, along with future opportunities digital brings, we're pleased to announce this brand-new partnership with Jisp.
"This opportunity comes at a time where physical meets digital in retail, and we're well placed to provide the most advanced app for our members across the UK & ROI that will be loved by our customers too.
"Whether it's home delivery, click & collect, Scan & Go, communications or gamification, this app will set the benchmark for the retail experience of the future."