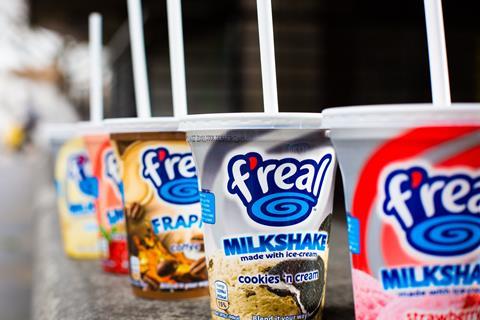 Rich's UK is exploring dairy-free alternatives for its F'real milkshake offer, with a potential launch in 2023.
Speaking to ConvenienceStore.co.uk at the National Convenience Show, Rich's UK Sales, marketing and R&D director John Want confirmed that F'real was investigating dairy-free options for its range. "It's something we are actively looking at - the joy of our blender is that it cleans between each blend so there's no cross contamination," said Want. "So we are looking at plant based options potentially for launch next year."
However, he stressed that F'real would only launch a dairy-free alternative when the business was satisfied that the taste would not be compromised.
"We will never sacrifice on flavour. If we can't get the flavour right, and the indulgence right, then we'll keep trying to get it right before we launch it."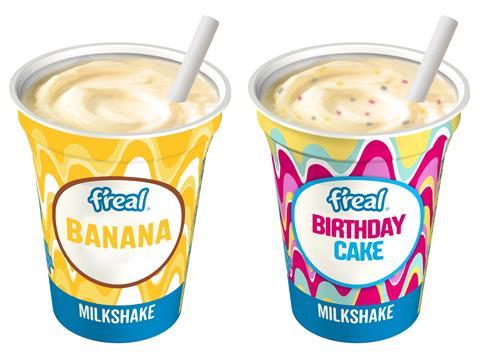 F'real launched two new flavours at the National Convenience Show – Birthday Cake and Banana. Want said this was the start of a regular pipeline of new flavours with the possibility of more seasonal flavours. "Obviously, we have a peak in demand in the summer but winter demand is still really strong so we want to make sure that we've got autumnal or winter varieties [on offer]."
HFSS
Want added that F'real may not be affected by the upcoming High Fat, Salt & Sugar (HFSS) regulations. "Because the product is modified in store by the shopper we don't believe that we are part of the HFSS regulation." The brand is currently seeking clarification on the situation but Want believes this would provide a real opportunity for the brand and retailers."
With the cost of living increasing, there have been concerns over consumer spending however Want doesn't think it's all bad news for retailers. "We are seeing the beginning of a down-trade of outlet type. So where you would go to a full service restaurant, maybe you're getting a take away instead. But actually I can see the convenience sector benefiting from that, where people may have gone to a QSR actually it's cheaper for them to go to their local store to get something that they can take home and cook for their family and that's where the treat then comes in.
"We understand that people are having to manage their budgets and considering where they spend their money, particularly food and essentials like that. We know we're not an essential product, but actually what we've discovered in the past two and a half years is that people still want that very much want to reward themselves for everything that they're going through. We are finding that there is a balance of people looking for good value and good experiences."