The switch from running your own Londis store to becoming a One Stop franchisee is a big step for any retailer, but for Dee Sedani of Matlock in Derbyshire it was a natural move. Dee was so confident the scheme was right for him he became one of the first independents to sign up to the One Stop deal, and at the end of last year converted his second store, in Etwall, to the format. The first conversion is already paying off, with basket spend and turnover at the community store up since the switch in June of this year, and Dee is hoping for similar results in Etwall
LAYOUT
With One Stop providing a budget of £50,000 to renovate franchisee sites, Dee made sure the store had a complete overhaul to go with the new name above the door. He was, however, able to keep his existing floor, ceiling and chillers, which he says are the three biggest costs when renovating a store, under budget.
The layout of the store remained largely the same, although space at the back was changed. An old freezer was replaced by grocery promotional bays. According to Dee, 40% of the range in One Stop stores is promotional to cater for price-savvy shoppers.
The cash machine previously at the front of the store was moved to the back beside the promotional bays to encourage the ATM users to spend in the store.
EXTERIOR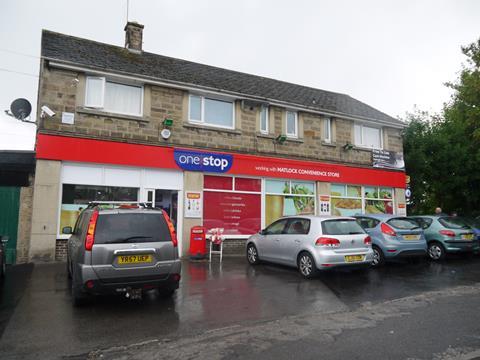 The front of the store has been redesigned to fit with the One Stop colours while still keeping a local touch.
Vinyls and promotional posters supplied by One Stop help keep the store looking sharp while informing passers-by of the deals available.
The front of store parking is a big attraction for the Matlock customers.
CHILLERS
Ever keen to keep a lid on costs, Dee's chillers feature doors to help the store remain energy efficient.
The switch to One Stop and a more streamlined range means Dee can offer more of the products that sell well in the chilled section, including 
own label ready meals.
The efficient use of chiller space also means that his impulse soft drinks and snacks ranges have been increased.
RANGING
Dee's range has become a lot tighter thanks to the switch to One Stop. "We cut back on a lot of lines that we realised we didn't actually need and we haven't missed them," he says. Despite this, weekly turnover has increased by £4,000 and the average basket spend has increased by £2.
The One Stop system also provides a more straightforward labelling system. Tickets say how many facings of each line have to go out, if it stays in the outer, and if it's going to be delisted so the retailer knows to put it on promotion. Dee says this has helped staff do their job quicker and more efficiently.
As well as reducing the range, shelving has been lowered to open up the shop more and make the most of the 989sq ft sales space.
SIGNAGE
The store benefits from new signage that gives it a crisp, clean look that Dee says the customers love. "Overall, it's been very positive. Customers notice that the prices and range are better," he says.
CUSTOMER FACING
The till area has been transformed, allowing more space for upselling promotional products. As Dee says: "It's another chance to get one more item in the basket."