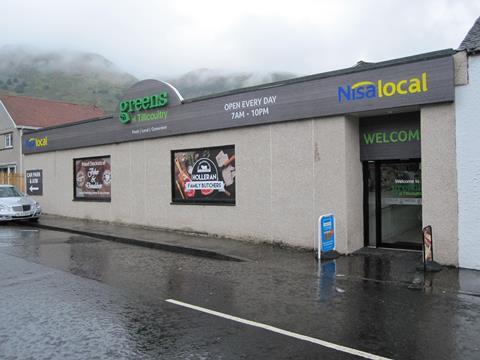 With in-store butchery and bakery counters, a large off licence section geared towards the Big Night In occasion and a product mix that covers both premium and value lines, Greens of Tillicoultry is building a reputation as a store to suit the shopping needs of the local community despite being new to the town. Part of a group of five Nisa-affiliated stores, soon to be joined by a sixth, in the same ownership of Eros Retail, the Tillicoultry site is the second branch to be branded under the Greens banner. Store manager Rod Carlin takes C-Store on a tour.
Fresh and Chilled
The first aisle has been made as wide as possible for maximum customer comfort and ease of shopping.
Pre-packed fresh produce is presented in the large chiller units, while loose ambient fruit and veg is available for selection from the smart wooden boxes in the centre of the aisle.
The store supports the Scottish government's healthy eating initiative, and also runs an incentive scheme for schoolchildren, whereby if they purchase a piece of fruit from Monday to Thursday it's free on Friday.
Local produce is stocked where possible, such as these strawberries from Fife.
The store measures nearly 6,000sq ft in total, with plenty of room for further development via the addition of new departments, such as an in-store café.
Butcher and baker
East of Scotland baker Fisher & Donaldson has its own space, including a hotplate to provide an additional food to go option.
Butchers Holleran have three standalone shops as well this unit, their first in-store counter.
The butchers provide freshly cut and pre-packed servings of meat, plus pies and prepared veg dishes.
One of the best sellers is a cheese and peperoni-infused burger named the Keva burger, after the local school-girl who won a competition to devise a new product.
Off-Licence Focus
The off licence section is given a feature under its own sub-brand, Greens Vineyard.
The department is merchandised with the Big Night In occasion very much in mind, with a gondola of sharing snacks and a Ben & Jerry's freezer greeting shoppers as they browse the wines, beers, ciders and spirits.
Throughout the store there is a mix of premium and value propositions, such as these premium spirits, which are on free sale in the off licence, and wines at a broad span of price points.
Nearby St Andrews Brewing Co produced these on-shelf tasting notes to enhance the merchandising of its craft beers.
For the value-hunters, stacks of beers, snacks and household items on special deals can be found easily.
Innovative Displays
You can't miss the local eggs in store thanks to this cheerful display.
The confectionery department is equally eyecatching with these curved vinyls giving the impression of sweets in tubes.
The vinyls come from a local firm, and the design echoes a similar one at the original Greens outlet in Markinch.
As well as the wrapped confectionery offer, the shop has the only pick & mix selection in town.
Overall, it is still early days as the store only opened in March in a unit that had remained empty for some time, but sales are building well.