Ahmed 'Naz' Nazir is the latest retailer to adopt Best-one's new premium symbol format with a stronger emphasis on fresh and food to go. The 1,800sq ft store is on the ground floor of a new housing block in Kilburn, North London, and Naz, who has traded in the area for 28 years, previously operated an independent store which was subject to a compulsory purchase to make way for the new development. From the new site, he is able to service both his old regulars and newcomers to the area living in expensive apartments and commuter homes.
Fresh & chilled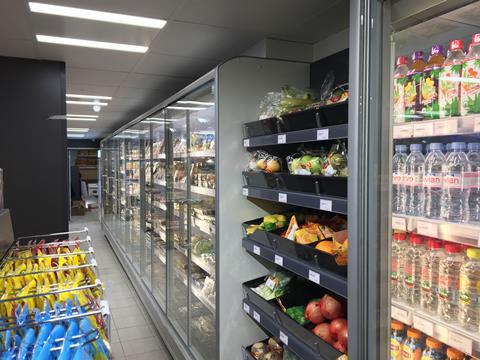 The store has been planned from scratch, based on Best-one's 'large community' format, which focuses heavily on chilled and food to go.
The symbol recommends that 20% of floor space should be dedicated to fresh and chilled. In Naz's new store more than 13 metres of refrigeration units are given over to chilled food, with another seven metres for chilled beer, cider and wine.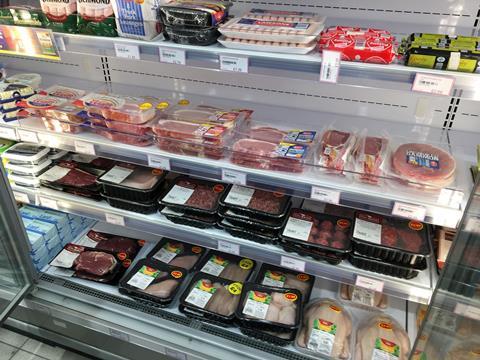 Naz is stocking fresh meat for the first time, including Bestway's Cut Above range, as well as other 'meal for tonight' items such as chilled pizzas and ready meals.
Additional chiller space is also given to 'grab and go' sandwiches, chilled snacks and soft drinks, separated from the main bank of chillers by the fresh fruit and vegetable section.
Food to go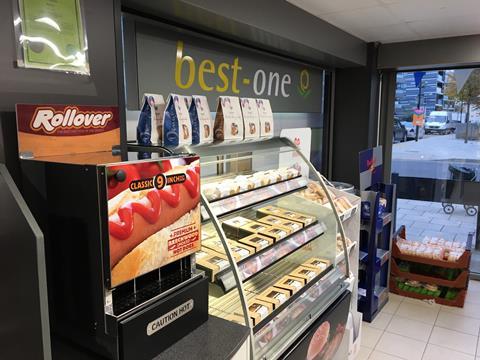 The food-to-go section is first in flow inside the front door.
Aryzta has supplied Cuisine de France bake-off and hot food units and a Seattle's Best bean-to-cup coffee machine.
A Rollover hot dog unit complements the hot food offer, and staff have all been trained in providing the new range to customers.
The store is open from 7am to 11pm and is on the main walking route from a lot of the new homes in the area to the tube station, creating plenty of potential for sales of hot food and drinks.
Beers, wines & spirits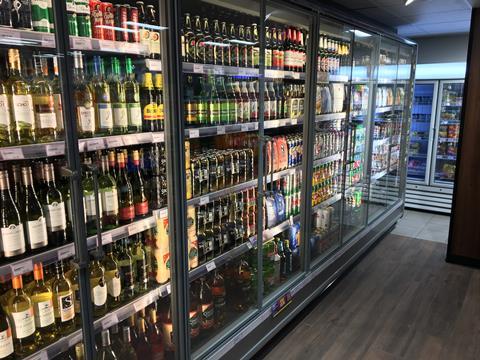 A strong licensed range is a key feature of the new store.
Blue lighting was added to the spirits section to create a 'cocktail bar' look, where premium brands such as Cîroc sit alongside more mainstream lines.
Separate flooring in a darker colour creates a distinct beers, wines and spirits zone, from which Naz is selling multipacks of beer for the first time.
Large, sharing packs of snacks and soft drinks are dual-sited in the licensed area to maximise take-home sales opportunities.
The customer journey
Core convenience and grocery staples are an important part of the mix, and Best-one will study epos data to refine the offer over time.
Five bays dedicated to promotional lines and special offers are given prime spots.
Naz is delighted to have created a "shopping experience" in store, compared with his old shop where as much as 70% of sales were made solely from the counter area. Many of his regulars have complimented him on his new site, new faces have been seen in store, and basket spend is rising.