The Bhadal brothers have transformed a former Methodist church in Leeds into a thriving One Stop franchise, winning them the Best Multiple or Franchise Store award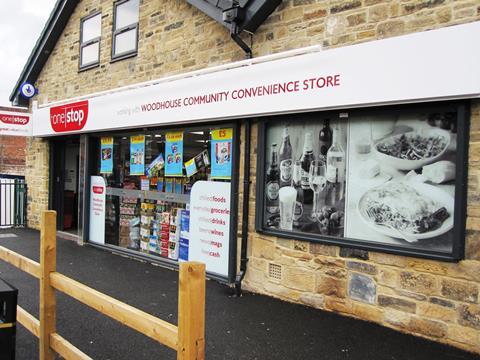 Converting a former Methodist church into a c-store and signing up to a progressive new franchise programme epitomises the Bhadal brothers' visionary approach to retailing. Jeeta, Peter and Raj had been in retail for more than 20 years when they decided to take over the building in the Woodhouse area of Leeds, in 2015, and re-open it as a One Stop franchise store.

It was a bold move. "With many of our customers having been married or christened in the building, we appreciated the sensitivities involved in converting the old Methodist church to a convenience store," says Jeeta. "We've retained the old organ as a link to its past and often talk to customers about their memories of special occasions."

Their community focus, combined with the operational efficiency of One Stop's franchise system, has helped drive sales growth and earned the brothers the recognition of judges at this year's Convenience Retail Awards.

The store is located in a residential part of the city, near the university, and caters according to its customer mix of local residents and students.

As part of the franchise partnership One Stop manages overall supply, but the group also affords the brothers the autonomy to source local products, which make up about 5% of the range across all categories. "One Stop are very professional, they know what sells, and they'll work alongside us to get the right range in," Jeeta adds. "The promotions they have are very good - the offers shout in people's faces - but I also have enough independence to source what I want. They work with us not against us."
Fact file
One Stop Woodhouse
Size: 1,600sq ft
Weekly turnover: £26,000
Average basket spend: £4.80
Services: Free-to-use ATM; Lottery; PayPoint
Indeed, the store exudes the consistency of a national brand, but with the spirit of an independent. The interior is bright, spacious, clean and inviting, the walls adorned with more than 16 metres of cutting-edge chillers with doors. Peter spent six months researching premium chillers, and settled on Delta units which run from floor to ceiling with six shelves in each unit to reduce the need for chilled storage space.

"There's more shelving, better lighting and they're more eco friendly," says Jeeta of the Delta chiller units.

The brothers have also invested in a third counter till, rather than the standard One Stop two tills model, to ensure minimum queues in peak times. And to encourage higher basket spend, they have introduced so-called 'bottomless baskets' on wheels.

On entering the store customers are faced with the food-to-go offer, which includes a Tchibo coffee machine, sandwiches and local cakes and pies, and offers a £3 meal deal. "Despite the local sandwich shop, people still come to us for food to go because of the great offer on meal deals," Jeeta says. "Consumers want meal deals."

Hot food to go isn't available at the moment, but that could all change with the brothers' store extension plans, where knocking through into storage will give them more sales space. "We want to offer hot food all day, from chicken wings and chips at lunch to pizzas or curries in the evening," he says. "We're also looking at getting a pizza oven."

Beyond food to go is the extensive and bounteous fruit and veg offer, which includes a range of locally-sourced produce displayed loose in baskets with 'locally sourced for you' shelf barkers highlighting its provenance. Pre-packed fruit and veg sits in the adjacent chiller, all with POS "shouting in people's faces" about value.

Moving on from the fresh produce is the rest of the chilled offer, which represents about 23% of weekly turnover and includes an abundant selection of ready meals, cold meats and dairy. "That's where the market is," says Jeeta. Beyond the chillers is a one metre section of locally-sourced world foods to cater for the student population, who are also the inspiration for the range of party accessories and stationery.

The store is also strong on alcohol, which is 13% up year on year, despite the presence of a Bargain Booze store just 100 metres away. The brothers have increased their range of premium spirits (£45 -£60 bracket) and flavoured ciders to keep up with customer demand. A wide range of chilled beer and wine is on promotion, with many on offer as multibuys or round pound price points. Beer cases are also on promotion on the shop floor. But the brothers are planning to add an extra dimension to their off-licence offer this year with the development of their own-brand 'Bhadal' beer, in partnership with a local microbrewery.

The initial plan is to sell the beer from a keg in store and provide labelled bottles - or customers can bring their own - while in the long term they want to sell the beer in bottles.

They also plan to sell their own-brand beer from the nearby social club they recently acquired, a move which exemplifies the brothers' admirable commitment to their community.

"We really are the community hub and with us owning the local social club we have ensured that Woodhouse has all the facilities to thrive."

Community links don't stop there, either. Jeeta is governor of the local primary school, which has an account with the store for its breakfast club. The store also has a One Stop food bank to generate provisions for those in need, while the 5p carrier bag levy is currently being donated to the primary school, at the staff's request.

The store does its bit for community cohesion by working closely with the local PCSOs. "We have a really good rapport with them and they visit us regularly," he says. "They'll come to us if they need help regarding a known criminal and they'll advise us if anything's happening in the area. They know we'll pass on the information to the community."

However, Jeeta believes that incidents of shoplifting have increased over the past two years, which he attributes to a reduction in police resourcing. "There have been a couple of shoplifting incidents where the police emailed to say they wouldn't send anyone over to get a report because they don't have the resources. They said there was nothing they could do. I understand that money's tight but this is the wrong way of doing things - people are aware the police aren't coming around."

In response he has taken extra security measures, such as ordering new wireless mobile CCTV cameras, which can be easily moved to another area of the store when required. Little things also make a difference - POS images of security cameras are now positioned at the till. Jeeta doesn't necessarily expect a reduction in shoplifting, but he believes the initiatives will give him more control of the issue.

Not being retailers to stand still, the brothers are also responding to rising demand for e-cigarettes by implementing a new e-cig display stand equipped with internal LED lighting later this year. They are also extending the car park to the rear of the premises to include nine spaces and a loading bay, which will accommodate potential new customers associated with the planned store expansion.

The team's attention to their community and customers, and their attention to detail in store, explains the consistent sales growth since opening two years ago. "We've got phenomenal staff, fantastic offers, and we've build a reputation based on trust," says Jeeta. "Lots of our customers are friends." It is also a glowing indictment of a successful franchise partnership - and one which has been rightfully recognised by the CRA judges this year.