C-store retailers have urged shoppers to immediately start complying with social distancing advice, as small stores struggle to maintain discipline amid relentless demand for products across all categories.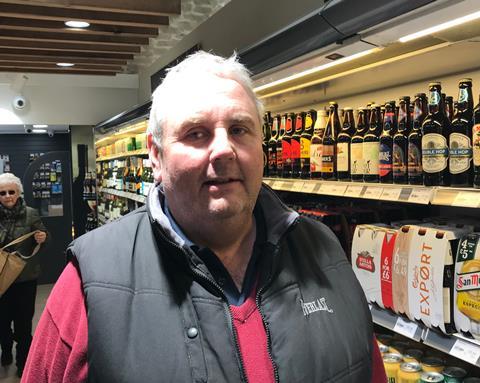 Store owners have been echoing the government's advice on remaining two metres apart and avoiding socialising, following a weekend in which hordes of people were reported to be outside enjoying the sunny weather and stocking up on essentials, as well as alcohol following enforced pub closures on Friday.
Alan Carr, who owns a Nisa store in the village of Newport, Essex, said: "People need to start taking it seriously now, because they're not. The store was crammed over the weekend and people didn't want to wait outside; it's really hard to enforce in a small store.
"Customers call up to say they're isolating so they'll send the kids down. No! Having said that there seems to be a totally different attitude today, people are getting the message. Also, it's because someone in the village said they've got the virus."
He also called on supermarkets to take action to facilitate social distancing, and called on the media to stop posting provocative images of empty supermarket shelves.
"The supermarkets need to open early just for volunteers to shop for people in isolation – otherwise they'd come out. People, and the press, need to stop posting images of empty shelves. They never post photos of full shelves," Alan said.
Middlesbrough-based Go Local retailer Bay Bashir said: "We're trying verbally to get people to socially distance, but it's difficult.
"All we can do is limit the amount people are buying. The government needs to learn from other countries and enforce social distancing – I'm worried looting could happen going forward."
Jag Brar, who own a Londis in Cricklade, Wiltshire, has taken measures to try to protect staff and customers.
"We've marked up 2m spaces on the floor with hazard tape to advise customers on social distancing. We're thinking of putting up a perspex screen around the counter too," he said.
Linda Carrington, manager of Spar Laceby Lodge Services near Grimsby, has taken similar measures.
"We have anti-bacterial for all staff, and carry out briefings every morning. We've put up posters highlighting the importance of social distancing across the store, and stuck tape to the floor to designate safe distances in queues. Also at the pumps we have posters advising people to wear gloves, which we provide for free anyway," Linda said.
"We're advising people to pay by card, which about 90% do, but some older people don't want to. But the staff all wear gloves anyway."
Manchester-based retailer Mital Morar, owner of Stretford Foodhall, who has shut down the in-store foodservice operations and social spaces in his store group, also warned about the impact the coronavirus crisis is having on his staff.
"The staff are getting tired and some of them are self-isolating so they aren't coming in," he said.