Real Good Ketchup has introduced a large version of its 100% natural, no added sugar Squeezy Tomato Ketchup.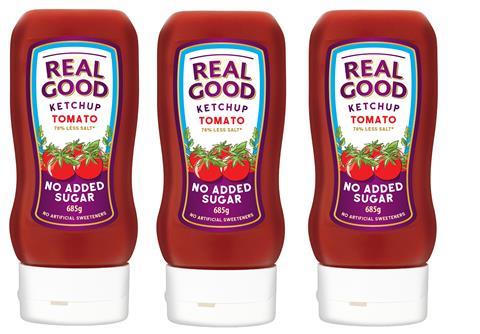 The 100% recyclable 685g bottle is targeting the family market and the regular ketchup user, offering better value and a healthier option. The ketchup contains no added sugar, 5.7g of natural sugar and 0.32g salt. It contains more than 75% less sugar and salt than regular ketchups and is also vegan friendly, the company points out.
Real Good Ketchup founder Elizabeth Jones said: "This new larger size has been created in response to the demand for a larger format that offers the health credentials and good value that our customers expect."
The company has chosen BPA free, 100% recyclable squeezy packaging that goes on to have a second life in long-term building materials and which has recently been trialled in pot holes.
Jones added: "While using recycled food grade material for the bottle would be admirable, the challenge is what happens after its second use. There is a limit as to how many times a recycled bottle can go back into the food chain, then where does it go? Our bottles find a new long life in building materials, pipes and the new pot holes trials."
The 685g ketchup has an rrp of £2.99.