Started by shopkeepers for shopkeepers, Best-one's credo is to provide the necessary service and support to build sustainable and profitable independent businesses, the symbol group argues. As such, it is one of the most sought-after fascia brands for dynamic retailers.
Reasons to join
The group's primary retailers are those with a smaller convenience store who want to maintain entrepreneurship while raising standards and performance. Best-one has no joining fees, and is proud to offer a package delivering the most benefits in the symbol sector.
The recent acquisition of Costcutter has grown Bestway Wholesale's symbol, franchise, and company store retail estate to more than 3,795 stores in the UK, including 2,682 fascia and 195 company-owned stores. The move further supports Best-one retailers and fascias.
Uniquely, Best-one retailers can choose to invest in their stores through the My Rewards Investment programme, whereby Bestway pays for improvements and collects the money through monthly rebate earnings. Retailers who have chosen this route have been delighted with the outcomes and resulting upsell.
The group also has a clear strategy of service excellence. A highly-experienced team supports its community stores by quickly responding to issues, adapting as necessary, and offering retailers and consumers the best value in the convenience sector.
In the last year alone, this has included ensuring stock availability, including guaranteeing minimum supplies amid panic buying and changing formats to ensure continuity of supply. The group has also leveraged emerging trends, moving fast to develop and roll out an online ordering app and investing in new digital platforms to support retailers adapting to consumer shopping habits.
By supporting retailers in these ways, Best-one provides the tools, support and training to ensure stores can engage with shoppers and retain their loyalty to shop locally.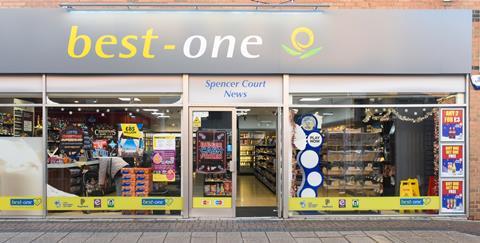 New concepts
Support and education, combined with continued investment, has been the backbone of Best-one's strategy as the pandemic changed the commercial landscape during 2020. The group's strategic plan needed to adapt and be agile, tracking shifting regulations and changing habits.
Increased service levels enabled symbol stores to support their local customers during lockdown. Careful stock management ensured availability and continuity of supply of grocery essentials, while flexible and enhanced delivery options helped position Best-one retailers at the heart of their communities.
Best-one also made significant investments in technology, partnering with experts at Jisp to provide retailers with a comprehensive, market-leading shopping app. This enabled stores to offer online ordering, click and collect, delivery service, pre-orders and payments. This improved store services and convenience for the shopper, delivering a seismic 500% upsell across consumer basket sales for adopting retailers.
Listening and responding to consumer needs and trends, Best-one has used Bestway's extensive network to access premium beers and wines as consumers traded up due to closures in hospitality.
Best-one's retailers also continued to be supported by the Bestway Retail Development programme. Meanwhile public marketing campaigns, such as VE Day celebrations, were employed to raise community spirits.
The parent company Bestway Wholesale has proven to be the predominant voice for independents at this time, with its purchase of Costcutter increasing its influence. The overall group remains an independent business and is passionate in its mission to serve independent retailers and their local communities.
Above the rest
The core objective in the pandemic year was to position Best-one symbol retailers as indispensable community resources, offering a safe, reliable, efficient, good quality and valued local service in extraordinary circumstances. The group looked to turn challenges into opportunities and new customers into loyal regulars while increasing sales, profitability and market share.
Unlike most other symbol groups, Best-one continued with full promotional activity, and price-marked packs (PMPs), to compete strongly within the market. This included encouraging and rewarding customer loyalty during economic uncertainty and drawing in customers not used to shopping local.
Best-one customers continued to receive the exceptional value they have come to expect from the group's stores. The group also future-proofed this new market through enduring innovations such as the all-in-one shopping app.
The symbol group's retailers made an immense contribution to society beyond any bottom line. Recently Best-one was honoured, humbled, and delighted when it heard that one of its retailers had been recognised by the Queen.
Vimal Pandya, who runs Best-one Halai General Stores at Gwent Court, was left in tears after receiving a royal letter thanking him for his "exceptional contribution" to life in London. Pandya had stood in long queues every day to ensure stock availability and made deliveries to everyone in his community that needed help until 11.30pm each night.
Retailer profile: Brompton on Swale Village Shop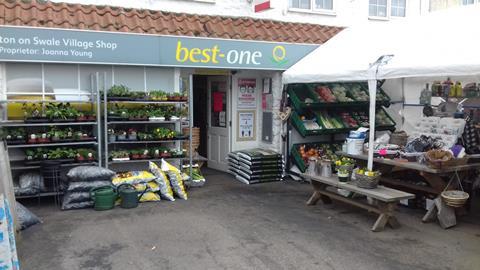 Owner: Joanna Young
Number of years as a member: 6 years
The biggest questions I had when deciding which symbol membership to go with were how it would add value, help me grow my business, and meet the needs of my current and future customers.
I entered this partnership after doing my homework. Asking other store owners for their views led me to Best-one.
With the group I receive the support I need. The reward scheme was also so attractive and made so much sense, allowing me to be rewarded and invest in my business.
My store is very much a community store, so the style of membership I have with Best-one suits me perfectly. I have the freedom as a business owner to continue to work as an entrepreneur, with the full-scale backing of being part of a much bigger business through the Bestway network.
With the support I receive, I don't need to worry about promotional offers, POS, merchandising or marketing. The team are really helpful and I feel like I'm part of the team.
I also enjoy the benefits of being able to access the digital tools, like the shopper app that is currently being trialled and rolled out. I have the security of knowing the tools have been set up, which gives me confidence.
I also love the autonomy of still being able to source locally, which is so important for my store and allows me to build my community network. This is also a strong point of difference, evoking loyalty, engagement and appreciation from customers, as well as increasing the footfall and revenue streams.
To find out more about Best-One please visit www.best-one.co.uk, email enquiries@best-one.co.uk or phone 020 8453 1234.