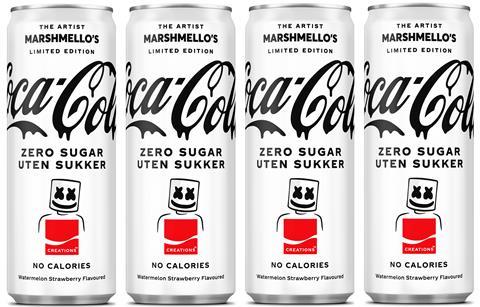 Coca-Cola Creations has collaborated with Grammy-nominated music producer Marshmello to create a limited edition flavour.
The brand's first-ever beverage co-created with an artist, the zero sugar drink (rrp 77p) is a fusion of Marshmello's favourite flavours, strawberry and watermelon, combined with Coca-Cola.
The slim cans feature striking black and white visuals that pay homage to the artist's signature aesthetic, as well as dripped Coca-Cola script.
Marshmello's Limited Edition Coca-Cola Zero Sugar is available exclusively in Tesco Group stores, including One Stop, Premier, Budgens, Londis and Tesco outlets.
"It was great to collaborate with Coca-Cola on this limited-edition drop," says Marshmello. "We created a vibey blend of my favourite flavours in this all-new mix. I think it tastes amazing and I hope fans love it too."
"Music is powerful in connecting communities and creating opportunities for shared experiences, much like Coca-Cola," said Oana Vlad, senior director, global strategy, The Coca-Cola Company. "For our third Coca-Cola Creations drop, we sought to add an unexpected remix of flavours to a great Coca-Cola taste, and Marshmello is the perfect collaborator. It's an exciting step for our brand to introduce Marshmello's Limited Edition Coca-Cola and invite fans to immerse themselves in Mello's world."
Later this year, Coca-Cola claims it will introduce additional limited-edition Coca-Cola Creations featuring unexpected collaborations driven by creativity and cultural connections.