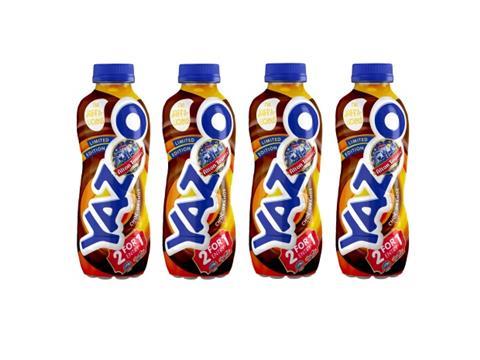 Yazoo has launched a new limited-edition flavour to its range.
Choc-Orange will be available from the end of March in standard (rrp £1.15) and price-marked packs (£1) of 400ml.
Available in grocery, convenience, wholesale, and foodservice channels, the new flavour will be supported by a fully integrated marketing campaign which includes Video on Demand (VOD), print and digital advertising, social media support, nationwide sampling, and shopper marketing.
Chocolate orange as a combination continues to grow, with a 52% increase in UK search demand for the flavour vs. last year (IRI).
Yazoo brand manager Nick Higgs said: "Brits have been enjoying Yazoo for over 30 years, so we know we're getting something right. We want to continue delighting consumers with taste-driven, refreshing milk drinks that also offer greater choice, variety, and excitement to shoppers.
"Our market research identified chocolate orange as a trendy, future flavour – 32% of consumers wanted to see the variant on shelves – so we listened! We're sure that shoppers will love the merge of citrus and chocolate, it's such a classic combination that will bring nostalgia and fun to flavoured milk in a way like never before!"
The brand is also extending its Merlin Group partnership to the Choc-Orange range, offering shoppers the chance to win two-for-one tickets to Thorpe Park and Alton Towers.