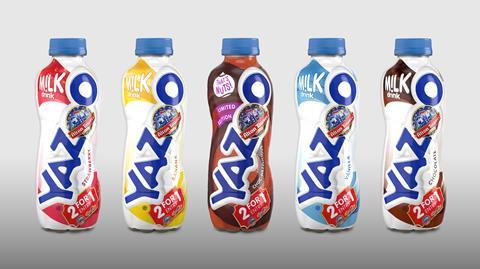 Yazoo is partnering with Merlin Group to offer its 2for1 tickets for Alton Towers and Thorpe Park promotion as both attractions see their doors reopen to the public.
Initially available only on limited-edition Choc-Hazelicious 400ml and 1ltr packs, the promotional 2for1 tickets to Alton Towers Resort and Thorpe Park will now be rolled out across the Yazoo core 400ml range of chocolate, strawberry, banana, and vanilla flavours from September.
Brand manager at Yazoo Gabriella Sudall said: "We're so excited to be partnering with the Merlin Group this year. Considering how successful previous partnerships have been, working with them really was a no-brainer, especially. We're sure people will be eager to get back to visiting these attractions they love after such an extraordinary start to 2020."
Previous Merlin Group partnerships have driven a 4-8% increase in sales of promotion packs for other partners.
The partnership also aims to unlock a minimum of 13 nationwide distribution points of the Core and No Added Sugar ranges throughout the amusement parks. Joint funding of 360-degree marketing initiatives will drive awareness of the link-up and include digital, social and TV advertising.