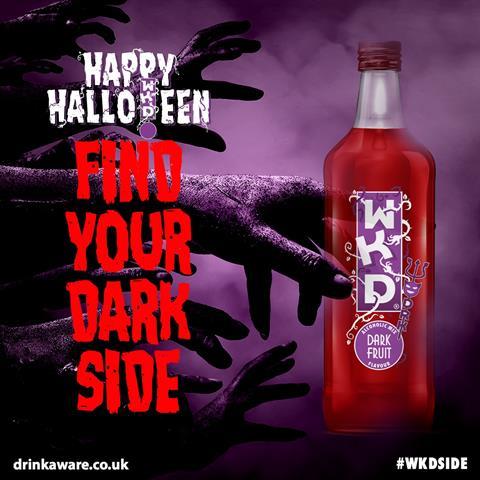 WKD has launched Halloween-themed activity to help retailers engage with consumers.
The Halloween-focused social media campaign themed 'Find Your Dark Side' will focus on WKD Dark Fruit, the flavour variant launched in 2020. Reaching over one million consumers via WKD's social channels, the online activity will include a series of Halloween vignettes featuring witches and zombies, and competitions offering consumers chances to win WKD Cocktail Cauldrons – vessels for mixing RTD-based cocktails in.
The campaign will also include fun videos detailing how to prepare suitably spooky WKD Halloween cocktails, and list the spirits and mixers consumers need to obtain to make them.
Alison Gray, head of alcohol marketing at SHS Drinks, said: "Halloween is going to be unlike any other this year but we're still doing our bit both to support retailers and reward consumers. 'Find Your Dark Side' will deliver a much-needed measure of seasonal fun to otherwise subdued Halloween celebrations, and also help retailers grow sales of cocktail ingredients."