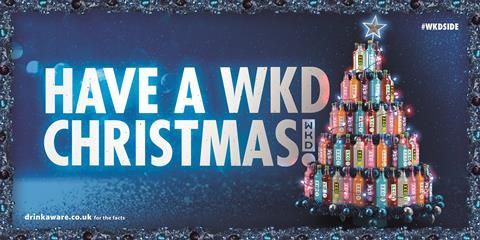 WKD has launched a Christmas-themed social media campaign to engage consumers over the festive period.
The online activity will include opportunities to win WKD Xmassive Stockings containing a selection of drinks, a variety of branded merchandise and a WKD-branded face-mask. The campaign will also include humorous suggestions for Christmas WKD-ecorations, a Christmas cracker joke competition and, for those looking to create their own RTD-based cocktails at home, recipes for DIY festive drinks, courtesy of WKD's very own mixologist.
Alison Gray, head of brand – WKD, at owner SHS Drinks, said: "WKD wants to do whatever it can, in whichever ways it can, to raise a few smiles and help bring 2020 safely to a close."
For more on the festive drinks category, check out our latest Christmas Alcohol report.