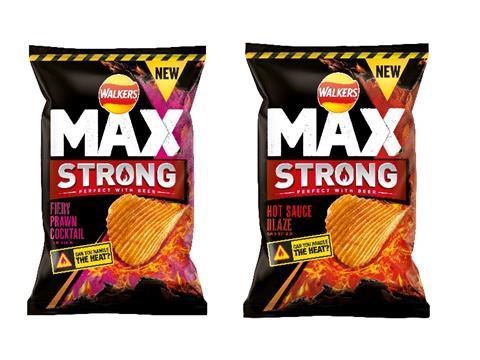 Walkers MAX has added two new non-HFSS flavours to its range.
The brand will be adding two new flavours to their MAX Strong range - Fiery Prawn Cocktail and Hot Sauce Blaze. They will be available in 50g bags, 70g PMP bags, 140g sharing bags and a 6x27g multipack.
The new variants will roll out to grocery and convenience channels from 1 August.
The launches form part of Walkers' ambition for 50% of its snacks sales to come from products classified as non-HFSS or from products sold in portions of 100 calories or less by 2025. The launch will follow Walkers non-HFSS range 45% Less Salt, already in supermarkets, to further encourage consumers towards healthier choices
Jonathan Roberts, senior brand manager at Walkers MAX said: "The Walkers MAX Stong range has delivered some of the boldest flavours in the savoury snacks category. Snacking remains a huge part of day-to-day UK life, and so taste is incredibly important as it remains the #1 driver when it comes to choosing a snack. These new strong flavours, with lower levels of fat and salt. will greatly appeal to this younger generation by delivering maximum flavour.
"With consumers looking for healthier snack options, we're determined to ensure non-HFSS options don't mean less flavour for MAX consumers and that we continue to deliver a product that they know and love. These new strong flavours add excitement and stand out on shelf and are therefore a must stock for retailers."