Unilever is looking to tap into consumer demand for global flavours with its new range of Asian inspired rice noodle pots.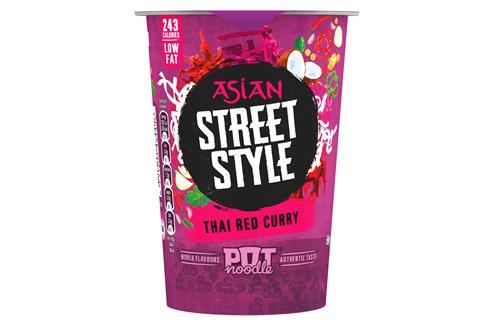 Sold under the Pot Noodle parent brand Asian Street Style, the new pots are available now and come in four variants: Thai Red Curry, Malaysian Laksa, Japanese Miso Noodle Soup and Vietnamese Beef Pho.
The Asian Street Style rice noodles are also low in fat and contain fewer than 250 calories. Each 60g pot carries an rrp of £1.75
Lena Portchmouth, brand lead for mini meals at Unilever UK & Ireland, said: "Hectic lifestyles mean food has to fit around jam-packed schedules, so it's no wonder food-to-go is experiencing such rapid growth. We know that shoppers are no longer satisfied with a sandwich or salad at lunchtime, instead they're looking to try a variety of flavours as our taste palettes become more adventurous [Wing Yip – Oriental Food Report 2016].
"New Asian Street Style not only gives consumers a choice of tasty rice noodle recipes for lunch, it also taps into the growing desire for healthier food choices, which don't compromise on taste. We're giving fans a taste of Asia in one handy pot, what's not to love?"
The Asian Street Style sub-brand is designed to attract a new demographic of shoppers to the instant noodle category and is separate from the wider Pot Noodle brand.
In line with Unilever's aim to become more sustainable, all packaging used in the new range is fully recyclable (featuring an aluminium lid, clear plastic pot and cardboard sleeve).