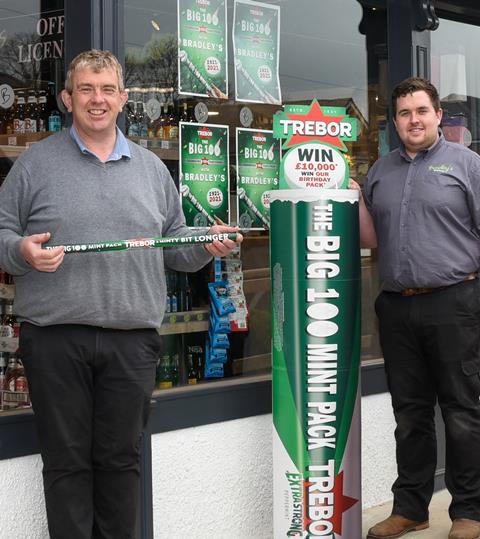 The number one mint brand in the UK (Nielsen: Mints data to 26.12.20), is marking 100 years on sale this year with a new promotion called the Big 100. Until 21 May, shoppers have the chance to win a range of prizes up to £10,000 – including daily £100 giveaways. The lucky winners of the £100 prize each day will also win limited-edition Big 100 packs of Trebor Extra Strong Mints. Consumers simply buy any Trebor pack – including Trebor Extra Strong Mints, Trebor Softmints and Trebor Cool Drops – and visit the brand's website to upload an image for their chance to win.
To get involved, retailers should display the bespoke Big 100 POS in store alongside their mints and gums range to encourage shoppers to enter for their chance to win. The Big 100 promotion is also supported by a far-reaching ATL campaign to engage consumers and encourage entries. The campaign will reinvent and revive the brand's famous "minty bit stronger" tagline to drive purchase.
Alistair Scrimgeour, brand manager for Trebor at Mondelēz International, said: "Trebor has been at the core of the mints category for 100 years – so we're celebrating our big birthday with our customers and their shoppers! Through our Big 100 campaign we're rewarding consumers with a whole range of prizes – from fun extra-long Trebor Big 100 packs through to a BIG prize of £10,000 cash up for grabs. Retailers should stock up their fixture with the range and display our Big 100 POS to get involved and grow their category sales."
The brand is also marking their centenary by sharing the stories of independent retailers who, like Trebor, were established in 1921. One such 100-year-old store is Paul Matthews' Bradley's store in Quorn, Leicestershire (pictured). The business was established in 1921 by Charles Earnest Bradley, who also operated a delivery service from the early days. It initially ran as a horse and cart service and grew into a full walk-in lorry retailing unit which continued until 1976. In 1969 Paul's parents took over at Bradley's and Paul's retail apprenticeship began! He took over full management of the store in 2008. Paul's son Jack is now following in his forebearers' footsteps working with his dad in store to learn the ropes, marking the fourth generation in the Matthews' family business.
Paul tells us, "Trebor is a great brand with an incredible heritage and it's wonderful to get involved in the celebration of Trebor's centenary as we also mark our 100 years of our family business."
The Trebor brand has been growing its share within the mints category for the past twenty months – making it a must-stock for retailers across the UK, claims Mondelez. Mints is a highly impulsive category so a campaign like Big 100 with impactful POS is a great way to capture shopper attention and make the mints fixture unmissable to help drive impulse sales.