Trebor has unveiled its latest consumer promotion to capture shoppers' attention in-store and help drive sales for retailers.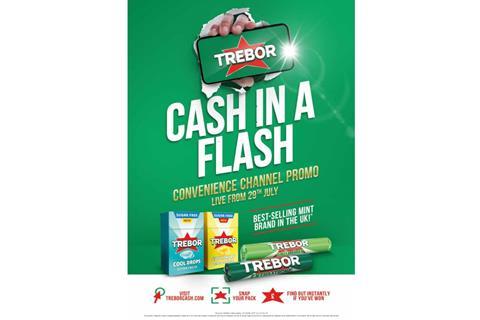 The 'Cash in a Flash' activity will go live on 29 July and is being activated exclusively in the convenience channel through bespoke POS materials.
Available across Trebor's complete range of products, the off-pack promotion offers consumers the chance to win by purchasing any Trebor product and sharing a snap of the pack on treborcash.com.
More than 1,000 cash prizes will be up for grabs, including £1,000 in cash, and winners will be guaranteed every day. The promotion is designed to drive excitement within the mints category.
The 'Cash in a Flash' promotion follows on from the return of Trebor's convenience-exclusive 'Get Minted' retailer campaign earlier this year.
The competition delivered a 6.2% sales uplift across the Trebor singles range in independent and symbol group stores in 2018 (Nielsen Value Sales, Independents & Symbols, Mints, w/e 22.04.18).
Amy Lucas, brand manager for Trebor UK at Mondelēz International, said: "We know fifty percent of mint purchases are made on impulse (SIA Demand Spaces Study 2018), so product visibility is absolutely key to sales success. Our 'Cash in a Flash' promotion will help create a buzz in-store and drive incremental sales for retailers.
"The top three best-selling candy singles in independents and symbol stores are Trebor packs (Nielsen Value Sales, Independents & Symbols, MAT, w/e 19.05.19) – Extra Strong Peppermint, Softmint Spearmint and Softmint Peppermint – so it's important we lead the category in supporting retailers with fun and rewarding promotions to continue to drive mints sales." Lucas concludes.
Retailers can display promotional POS materials in-store for the duration of the competition to encourage entries from shoppers. For more information, visit: www.deliciousdisplay.co.uk.