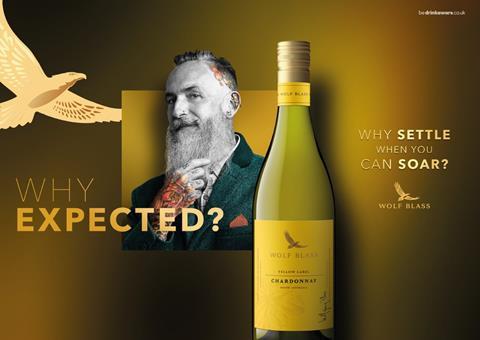 Treasury Wine Estates' (TWE) premium wine brand, Wolf Blass, has launched a campaign 'Why Settle When You Can Soar', hoping to inspire customers to not 'settle for less.'
The campaign has gained the largest regional investment and through in-store, PR and digital events, hopes to reach millions of consumers. 'Why Settle When You Can Soar' also features video-on-demand advertising and a continuation of the brand's partnership with luxury travel deals company, Secret Escapes.
The promotion will see just under 900,000 bottles across the UK and Northern Ireland tagged with prize-winning QR codes. Entrants will have to scan the QR code on the tagged wine bottles to be in with the chance of winning £100,000s worth of instant prizes and credits. One lucky winner will receive a once-in-a-lifetime holiday to either Thailand or New York, and 4,000 runners up will each receive a £25 voucher, redeemable on the Secret Escapes site with a minimum £125 spend.
Ben Blake, marketing director at TWE, said: "At TWE, we are constantly striving to push the boundaries, creating memorable campaigns that enable our brands to connect with new consumers who are looking to discover more about the wine category.
"Why Settle When You Can Soar' is the next chapter in the Wolf Blass story, defining the brand's philosophy now and into the future. The campaign is borne out of Wolf Blass's spirited approach to soar above the rest, encapsulating the brand's refusal to settle, and passionately strive for the best.
"The Wolf Blass name is synonymous with wine drinkers of all ages and walks of life across the globe, and through the launch of this new campaign we aim to appeal to loyal consumers of our awarded wines, whilst engaging with new consumers who are looking to discover a new favourite.
"Why Settle When You Can Soar' is an inspiring and powerful concept that we are confident will drive huge visibility and talkability around the Wolf Blass brand."