This Christmas, Thorntons is introducing a new elf self-treat bar (rrp 75p / 29g) to shake up its chocolate offering for this year's festive season.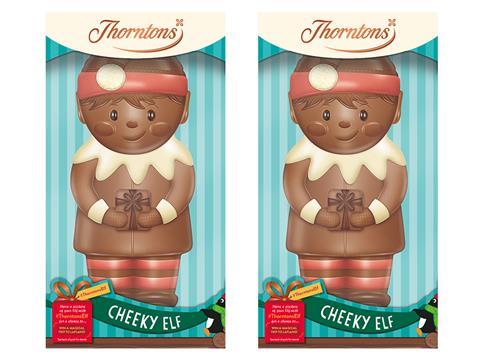 The Ferrero-owned brand is also launching a redesigned version of its reindeer chocolate and adding a snowy bear white and dark chocolate character to its range (rrp £5.38 / 200g respectively).
Thorntons' cheeky elf treat (rrp £5.38 / 200g) is also back for a second year alongside the chocolate maker's Santa advent (rrp £3.23 / 93g), elf advent (rrp £5 / 130g) and more premiuim Continental advent calendar (rrp £11 / 311g). The Continental assortment of milk, dark and white chocolates will also be sold in a winter markets box (rrp £9.68 / 273g).
Ian Tweedale, marketing director of Thorntons, said: "Christmas is a time for sharing but it is also a time for treating yourself, so whether you want to buy chocolate for your loved ones, or you fancy your own festive delight, make sure to check out our festive collection.
"Complete with the famous cheeky elf and new elf self-treat there's a lot of fun to be had with this year's new and improved range. With treats to get everyone's taste buds tingling, you'll be sure to pass the love on with this collection."