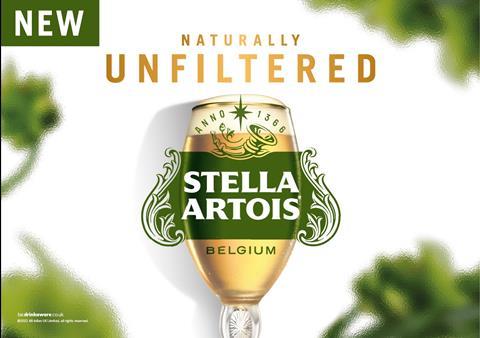 Stella Artois, part of Budweiser Brewing Group, has announced the launch of Stella Artois Unfiltered, supported by a media campaign and sampling plan.
The new premium lager will launch exclusively in Asda on 24 February before being rolled out across grocery and convenience channels from April 2022.
It comes in 660ml bottles, 12 x 330ml bottles and 6 x 330ml cans with an ABV of 5%.
The absence of filtration gives the beer a golden haze and "allows the flavours to burst through".
Mark Wingfield-Digby, off-trade sales director, said: "With unfiltered lager taking Europe by storm and hazy beer becoming hugely popular in the craft segment, we are looking forward to bringing something new to the world lager category. Stella Artois Unfiltered provides retailers with an innovative product and super-premium, fully recyclable paperboard packaging.
"Stella Artois is the ideal brand to grow the unfiltered category in the UK with the lager becoming synonymous with taste and quality. We are thrilled to be launching Stella Artois Unfiltered to the UK market and are confident it will prove a success up and down the country."