Eco-conscious chocolate brand Seed and Bean has announced a full range rebrand, featuring bright colours designed to capture shoppers' attention.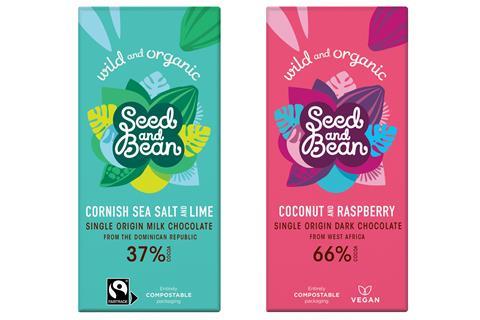 The refresh also highlights some of the brand's unique credentials including its entirely compostable packaging, Fairtrade ethics, organic status, vegan-friendliness, as well as the provenance and sourcing of its single origin chocolate and cocoa.
The British chocolate brand's new packaging design uses an updated strapline: 'Wild and Organic' in a nod to its adventurously flavoured bars including dark chocolate with coconut & raspberry; mandarin & ginger; lemon & cardamom; aromatic fennel; lavender; orange & thyme; and milk chocolate with sea salt & lime.
Oliver Shorts, owner of Seed and Bean, commented: "Sustainable brands often get a bad rap for being boring but at Seed and Bean we've always flown in the face of this stereotype. Each of our bars meets flawless ethical standards while consumers can choose between some brilliant, playful flavours. With this rebrand we're looking to call out our entirely compostable packaging, something which against all odds is still pretty unique for a premium chocolate brand, while staying to true to the brand personality with a rainbow range of colours and beautiful illustrations including cocoa pods and leaves."
Seed and Bean's range includes a selection of flavoured 25g mini bars, larger 85g bars and a newly launched gifting range including seasonal products such as dark chocolate with spice ginger mini bar; a Christmas Cracker gift set; as well as a three themed gift sets: mini bar; botantical; and favourites.