Savsé is set to launch its first ever on-pack promotional campaign into stores nationwide from next month.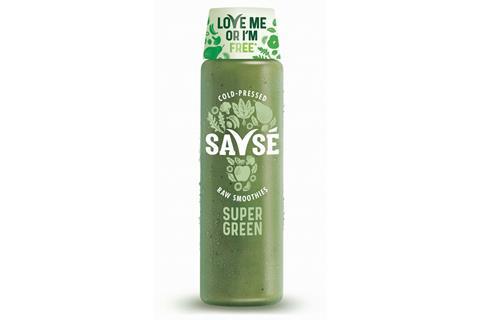 The 'Love Me or I'm Free' activity supports the brand's recent repositioning and new look packaging which rolled out in March.
Half a million customers will be able to purchase any 250ml or 750ml bottle from Savsé's range of juices and smoothies with the 'Love Me or I'm Free' bottle crown (see above). With this, shoppers can claim their drink for free if they feel it doesn't deliver on its taste promise.
The 'Love Me or I'm Free' promotion will kick off on 1 May. To make a claim, customers can write to Savsé and tell them why they are unhappy with the product (minimum of 15 words) including their crown, receipt, full name and address in their submission.
Within 28 days of receiving a claim, Savsé will send customers a refund cheque for the costs of the drink. Up to 500,000 drinks can be claimed (one per household) for free through the promotion up until 14 August.
Charlotte Ashburner, marketing director at Savsé, said: "Our mission is to empower people to cram the most into life, we don't believe consumers should ever have to compromise – especially when it comes to what they eat and drink.
"We are proud of the premium quality of our drinks and our first on pack promotion is a testament to that - it is a bold move, and we're confident it will drive penetration of the juice and smoothie category."
Savse's 250ml bottles are available in cases of six with an rrp of £2.49 (PMPs are also available), and the larger 750ml bottles carry an rrp of £3.99.