Global snack brand Pladis is continuing to expand its snacks offer with the launch of Flipz Salted Caramel.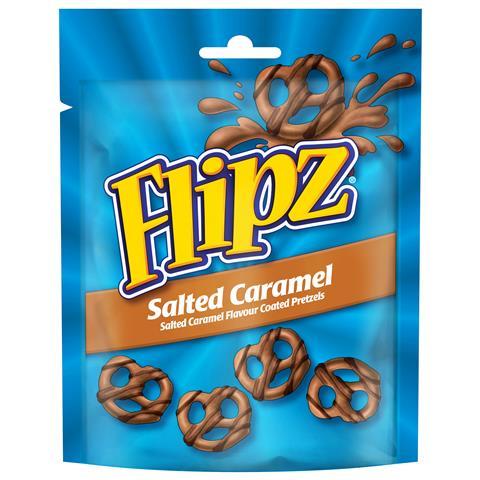 The latest addition to the Flipz range sees the salty and sweet pretzel snack covered in a salted caramel coating and comes in 90g packs with an rrp of £1.50.
"We were confident British snackers would welcome the 'swavoury' snacking trend when we launched American favourite Flipz here last year, and looking at its sales to-date, they certainly have," said Sarah Horowitz, director of new ventures at Pladis UK & Ireland. "With sales of £12.3m RSV in its first year on shelves [Nielsen data up until 20.04.19], consumers have clearly taken to the brand – and now we're bringing them another delicious flavour combination.
"Flipz Salted Caramel offers a moreish, sweet and savoury taste with a delicious, on-trend salted caramel twist. It is an absolute must-stock for retailers looking to unlock the £1.2 billion opportunity that the snacking category presents over the next three years [Pladis 2018 Annual Biscuit Review] – and we believe Flipz Salted Caramel will be the sweet treat that families and friends alike will be reaching for during days out, nights in and everything in-between.
Horowitz added: "We already know how popular Flipz has been in the UK, and with £500 now spent on snack foods every second [Pladis 2018 Annual Biscuit Review], there's no let-up in the demand for on-the-go and sharing snacks. We look forward to enticing even more consumers with our latest exciting flavour innovation."
Flipz Salted Caramel is available to retailers in the convenience and impulse channels now.