McVitie's is partnering with mental health charity Mind to launch a new campaign aimed at promoting positive mental health by encouraging people across the UK to talk.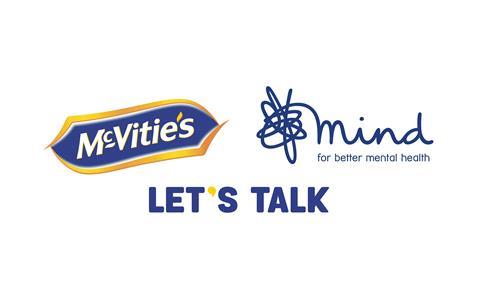 The 'Let's Talk' partnership kicks off this month with the unveiling of new consumer research from YouGov, commissioned by McVitie's and Mind. The research is designed to reveal the nation's talking habits and the importance of having meaningful conversations.
Supported by in-store partnerships with leading retailers and 7,000 convenience and impulse outlets, the 'Let's Talk' campaign will include offering shoppers the chance to gift almost five million complimentary packs of biscuits to loved-ones – with the goal of giving people an excuse to get together and talk over a cup of tea and a biscuit.
In-store POS will also be available to c-store retailers to promote the message and remind shoppers why it's good to talk. A variety of events and activities are planned throughout May and the coming months, including on-ground activations around National Biscuit Day (29 May).
Nick Bunker, managing director at Pladis UK & Ireland (owner of McVitie's), said: "Our partnership with Mind is the biggest initiative in our business right now and we want it to have as big of an impact as possible.
"So it's fantastic to have the support of some of the UK's biggest retailers to promote the simple, yet impactful message around the importance of talking for our mental wellbeing - and what better way to do that than over a biscuit and cuppa."
As part of the 'Let's Talk' partnership, McVitie's will also support Mind with the opening of eight new Time to Change Hubs and training hundreds of new Mind champions in the UK.
Paul Farmer, chief executive of Mind, added: "We're thrilled to be working with McVitie's to encourage the nation to get talking. You don't have to be an expert to be there for your loved ones, simply making time for a chat over a cup of tea and a biscuit can go a long way."