An "eye-catching" new packaging design is being rolled out across Rubicon's range of soft drinks.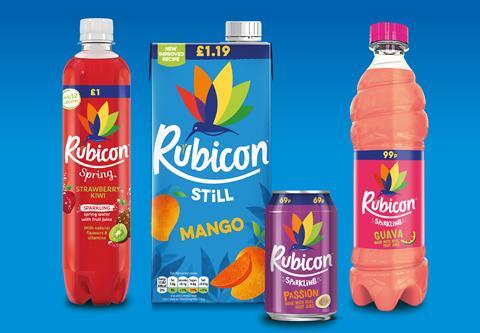 Alongside the colourful new pack design, an "improved fruitier tasting recipe" will also be introduced on the Rubicon Still range, "delivering a much better taste while remaining below the sugar levy," manufacturer Barr Soft Drinks said.
"In taste tests, 76% of drinkers preferred the new recipe and we will be communicating the new fruitier tasting Rubicon Stills range to shoppers with a marketing campaign in February including outdoor, consumer press and social media," Barr Soft Drinks marketing director Adrian Troy said.
The new-look packaging will be rolled-out across the whole Rubicon brand during the first few months of 2020, including the new Stills recipe packs, and retailers are encouraged to maximise their sales increase by using impactful new point of sale.