Barr Soft Drinks is reinforcing Rubicon's status as the official soft drinks partner of the England Cricket Team with a multi-million pound campaign: 'Catch the Taste of Summer'.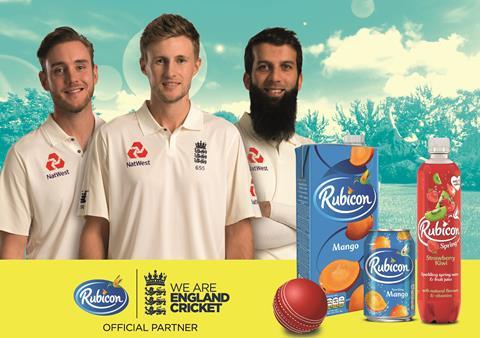 Throughout June and July, consumers will have the chance to win Ashes tickets on a daily basis in the Rubicon 'Smash a Wicket, Win Ashes Tickets' on-pack promotion.
Rubicon will also partner with entertainment brand Joe.co.uk to create 'The Cricket Show together with Rubicon' - shown weekly to millions of viewers online and on social media.
Adrian Troy, marketing director at Barr Soft Drinks, said: "Rubicon will capitalise on the fact that 2019 will be a massive year for English cricket, with England playing top international opposition this summer, including Pakistan, before meeting Australia in one of sport's greatest, most competitive fixtures, a televised five-test Ashes series in August and September.
"Rubicon is ideally-placed to engage the nation's 10 million cricket fans and the general public with a summer campaign that will bring energy, excitement and a touch of exotic exuberance to cricket this summer. We've developed a range of assets and activities that will engage shoppers both in and out of store, enabling retailers to really capitalise on the opportunity to grow Rubicon sales in the coming months."
Furthermore, a national digital campaign will be spearheaded by Rubicon's Urban Crictionary which engages shoppers by explaining some of the terminology associated with the game of cricket. This will be supported by advertising at national cricket venues throughout the summer season.