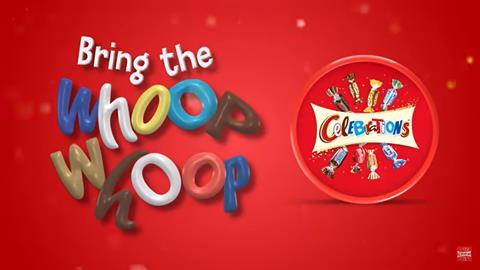 Mars is encouraging consumers to celebrate all year round and come together, not just at Christmas. The new 'Bring The Whoop Whoop' campaign positions Celebrations as the ultimate gift to share and bring people together.
Kicking off the brand activity, a new ad has been developed by AMV BBDO which features two identical twins opening two identical presents. The pair reveal two boxes of Celebrations resulting in them celebrating by whoop whooping at each other. As the excitement builds, the rest of the family join in.
The advert will run until the end of 2021 across TV, VOD, YouTube, Instagram and Facebook, and is further supported by in-store activation.
While the new strategy maintains and celebrates Celebrations' festive heritage, it sees the brand move beyond its traditional Christmas association by evolving the classic Celebrations box into a gift for any time of the year.
Senior brand manager Cemre Cudal said: "Celebrations has become synonymous with Christmas and the holiday season. While this is brilliant, our new campaign looks to push the brand further into those other moments of joy and celebration. The new creative captures the wonderful feeling of joy, excitement and whoop whoop energy you get when you gift or receive Celebrations – which we think should be embraced all year round!"
With comedy and timing key to the campaign, the production team chose to work with New Zealander director Damien Shatford, through production company The Sweetshop.
In 2022 and beyond, a further wave of work will launch that will embody this all-year-round spirit showing that Celebrations can bring the celebrations whenever needs be.