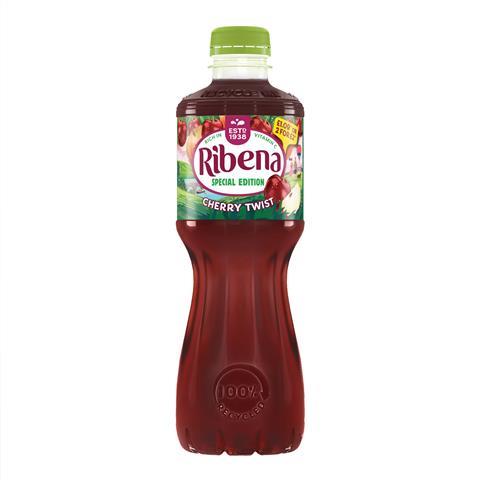 Ribena is bringing a special-edition pack to the UK this summer. Ribena Cherry Twist is pricemarked at £1.09 or 2 for £2 and is available from the end of June in 500ml bottles made from 100% recycled plastic.
Sales of cherry-flavoured drinks are growing at 20.2% year-on-year (IRI Total Soft Drinks in Wholesale Symbols and Indies (Value) L2years to 21/02/21).
"Ribena Cherry Twist comes at the perfect time for our brand," says Helen Passard, head of Ribena at Suntory Beverage & Food GB&I (SBF GB&I). "Following two years and £1.6m of investment, last year we unveiled new packaging for the Ribena 500ml RTD range. The packaging overhaul made Ribena the largest selling soft drinks brand with bottles made from 100% rPET that are also 100% bottle to bottle recyclable giving it the optimum chance of being turned back into a bottle once recycled."
Ribena's 500ml range will be supported by a £3.7m advertising campaign landing throughout 2021 across TV, social media and in-store marketing. As well as featuring recycling messages on the bottle, all advertising will encourage consumers to recycle too.
Ribena Cherry Twist will also feature as part of SBF GB&I's first ever cross-brand consumer promotion running across its core brands this summer. Consumers will have the chance to win a host of unstoppable summer prizes such as camping, biking and for Ribena entrants, barbecue prize bundles– helping to boost visibility of Ribena's latest new drink alongside the rest of the leading range.
The new 500ml cherry-flavoured drink joins Ribena Blackcurrant, Blackcurrant No Added Sugar, Strawberry, Very Berry, Raspberry, Pineapple & Passion Fruit and Mango & Lime in the brand's 500ml range.