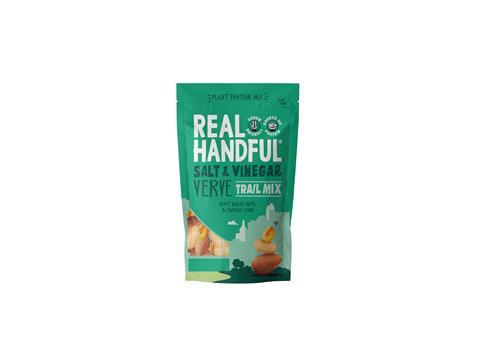 Real Handful has announced the launch of two new ranges; Craft Baked Nuts and Savoury Trail Mixes.
Craft Baked Nuts, which includes peanuts (RRP: £1.00 - £1.99) and almonds (RRP: £2.99), come in three variants: Sea Salted Peanuts (112g, 50g), Salt & Vinegar Peanuts (112g 50g) and Smoky BBQ Almonds (112g). The formats include 50g impulse packs and 112g resealable share pouches.
Savoury Trail Mixes (RRP: £2.50) also come in three flavours: Super Sweet & Salty Trail Mix (112g), Salt & Vinegar Verve Trail Mix (112g) and Smokin' BBQ Trail Mix (112g).
The range will be available to independent retailers through Delicious Ideas Food Group.
Founder of Real Handful Joe Taylor said: "From our roots in Fruit & Nut 'Trail Mix' snacking we recognise the incredible benefits that are inherent in snacking on nuts, veggies and pulses and are excited to be challenging some of the savoury snacking norms by creating and packaging these new ranges differently. Consumers are looking for every opportunity to make better choices and so by baking our nuts rather than frying or roasting, by using Hi-Oleic peanuts that are significantly higher in heart healthy monounsaturated fats and by rolling out widely recyclable packaging we're giving them the choice that they deserve whilst also delivering incredible flavour. We're really grateful to have such fantastic early support from our retail partners and have big plans to fully support these new ranges in 2021 and beyond."