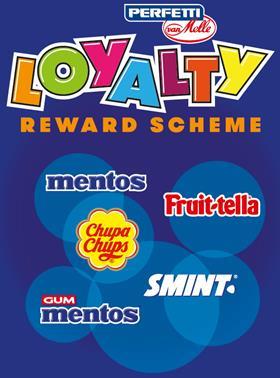 Perfetti Van Melle (PVM) is urging convenience stores to sign up to its Loyalty Reward Scheme. The £2m program features a range of stocking and merchandising initiatives to help them boost profits and reap other rewards, including a £100,000 giveaway.
Retailers are encouraged to display PVM's best sellers on dedicated merchandising racks, for which they will be instantly rewarded through a points-based membership scheme. Members will benefit from free stock, superior display solutions, expert category advice from PVM's growing field sales force and the chance to be entered into a draw for gift vouchers worth up to £1,000.
To gain extra points, retailers will need to stock additional lines, feature POS signposting or add displays such as the Chupa Chups Wheel or the recently launched Mix of Minis range.
Nicola Hornsey, senior sales manager at PVM, said: "Our new Loyalty Reward Scheme is not just a great chance for retailers to win some fantastic prizes, it also gives them the opportunity to reinvigorate their confectionery offering, add some real shopper favourites to their lines and boost their profits."
Antony, Dee's Stores Premier Express manager and winner of a Buy A Gift Voucher, said: "Sales have improved significantly since the stand was implemented and 90% of purchases are two-for-£1. PVM have visited my store several times and are keen to support."
For more detail on how to get involved in PVM's Loyalty Reward Scheme, retailers should contact pvm@mercieca.co.uk