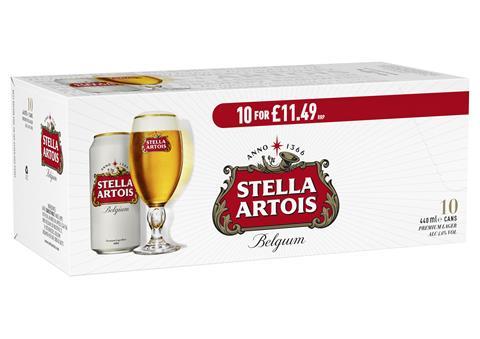 Budweiser Brewing Group UK&I has launched price-marked single cans and 10-packs across its Stella Artois and Budweiser brands.
Single cans of Budweiser and Stell Artois will be price-marked at £1.89 and £1.99 respectively while 10-packs of Stella Artois will have a price-mark of £11.49.
The price-marked pack variants have been launched following a period of strong sales growth for 10-packs and single cans in the Off-Trade. According to Nielsen data, 10-packs are seeing the highest growth value of any pack size, increasing by £32.8m in the last 12 weeks, and by £152.4m over the last 52 weeks.
Consumer research conducted by Budweiser revealed that 81% of respondents believe price-marked packs are less confusing and more transparent than their non-priced counterparts, while 63% feel they are fairer.
Convenience sales director at Budweiser Brewing Group UK&I Jessica Markowski said: "We're happy to be expanding our price-marked packs range across two of our best-selling and most famous beers. Joining our existing range of price-marked products, the launch of the price-marked single cans and 10-packs allows us to meet customer demand, and broadens consumer choice.
"As lockdown restrictions lift, the at-home occasion continues to be strong growth driver. Being able to bolster our priced-marked line-up at this time enables our customers to boost profit margins by capitalising on this consumer trend."