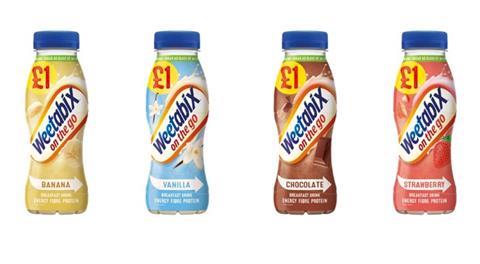 Weetabix On The Go's £1 PMP offer is returning to its 250ml core range.
Designed to further drive impulse purchases and bring incremental shoppers into the category, the limited-edition £1 PMP bottles is available in wholesale and convenience now. The price-marked packs are available across 250ml Strawberry, Chocolate, Vanilla, Banana and Caffé Latte flavours (RRP: £1).
Weetabix's field sales teams will hit the road to coincide with the launch, visiting over 1,000 convenience stores across the UK with the aim of increasing distribution of the On The Go range.
The first of several Weetabix field sales campaigns this year, retailers will be provided with POS materials and merchandising support for their drinks' chillers.
Marketing manager of Weetabix On The Go, Christian Sarginson, said: "Weetabix On The Go is the UK's number one breakfast drink and is a £9.9million brand with an almost 54% share of the breakfast drinks sector. We're always looking at ways to offer a convenient breakfast for those hectic mornings. The relaunch of the PMP comes at the ideal time for convenience retailers, with more people looking for breakfast and snacking options on the move.
"We know that once trialled, we generate strong repeat sales with shoppers loving the great taste and smoothness of the drink. After we first launched the £1 PMP offer on a Limited-Edition basis back in December 2020, we saw phenomenal demand from both retailers and consumers, bringing newcomers to the category. We're pleased we can continue to offer great value to customers in this channel with the PMP, which is an easy breakfast option at an affordable price."