This July, plant-based snack brand Seed Snacks is introducing two new variants, along with a new compostable pouch format and improved recipes for its current range.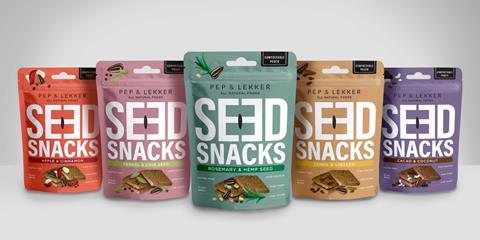 The brand's first sweet flavours: cacao & coconut; and apple & cinnamon, will debut alongside lower sugar versions of the company' fennel & chia seed; cumin & linseed; and rosemary & hemp savoury skus.
Available to independents now, all products within the range are high in fibre, gluten-free and vegan with an rrp of £2.40 per 30g pouch.
Susan Gafsen, co-founder at brand owner Pep & Lekker, said: 'Whilst overjoyed with the success we've enjoyed in our first year of trading in nutritiously empowered snacks, we realised that there was so much more we could do to broaden our appeal yet further.
"We've removed sesame seeds from our range so that each and every one of our pouches can puff out their little chests and proudly proclaim themselves to be free from all 14 allergens.
Gafsen continued: "We've added sweet-themed flavours to our seedy snack repertoire so we can appeal to a wider/younger audience (on-the-go nibble, lunchbox extra, tea time treat) without compromising on our full-bodied flavours and healthy convictions."