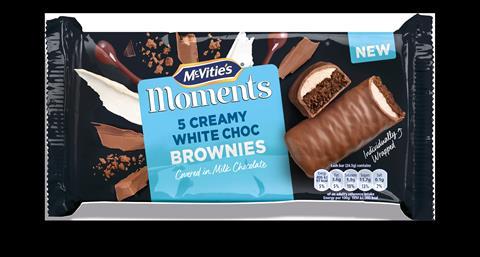 Pladis has announced the launch of McVitie's Moments Brownies.
Available in Double Choc Fudge and Creamy White Choc flavour variants, McVitie's Moments Brownies come in a pack of five individually wrapped bars at an RRP of £1.85.
"Historically, cake has under-indexed against the evening consumption occasion, where consumers often want a little reward or indulgence at the end of the day," said Claire Hooper, head of marketing – cake at Pladis UK&I. "However, indulgence is a key trend in the category and growing numbers of shoppers now tuck into cake during typically indulgent moments – whether that's as an evening treat or a during moment of 'me-time'."
According to Kantar data, Cake Bars continue to drive growth for the prepacked cake category (+24% in the past two years) and are brought by one in three British households, with a value of £48m.
"Our individually packaged Cake Bars are already a winning proposition, but we've spotted an opportunity to help retailers drive incremental sales by upping the indulgence factor and adding a touch of chocolate-smothered luxury to our bestselling portfolio with this unique new proposition.
"Providing an opportunity to access currently untapped consumption moments, McVitie's Moments Brownies is a market-first, which we see as retailers' ticket to maximising sales in the cake category," added Hooper.