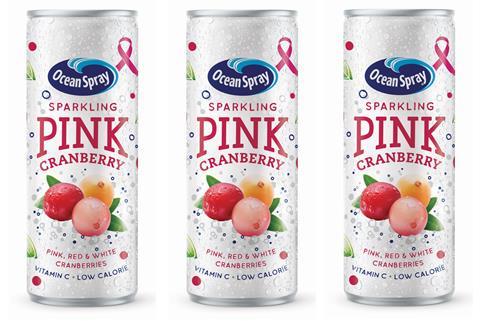 Cranberry juice brand Ocean Spray has relaunched its Sparkling Pink Cranberry carbonated fruit drink in a smaller 25cl can.
What's more, the brand has announced a partnership with The Pink Ribbon Foundation and will donate 5p from every can sold to the grant making trust. The money will fund projects and provide financial support to UK charities which relieve the needs of people who are suffering from, have been affected by breast cancer, or who work to advance understanding of breast cancer and its early detection and treatment.
First launched exclusively into Independent retail in May 2021, Ocean Spray Sparkling Pink Cranberry is a cranberry-based carbonated juice drink with added vitamin C which is low in calories, aimed at bringing healthier choices to the on-the-go fixture and sales benefits for retailers. Originally launched in a 33cl can, the drink has now been resized into a new 25cl sleek can with a lower RRP of £1.19.
With a core campaign message 'Bubbles with Benefits', Ocean Spray's sparkling drink is available to consumers at a time when making healthier diet choices is at an all-time high, COVID restrictions are lifting, more consumers are getting out and about and, as a result, are looking to make impulse purchases from front of store for consuming on-the-go. The drink is designed to meet the lifestyle and wellness needs of those health conscious women aged 35-54 who are currently underserved in on-the-go when it comes to low calorie carbonated soft drink choices.
Caroline Bethell, managing director Europe for Ocean Spray said: "Sparkling Pink has been a real success in the independent sector since its launch last summer and by relaunching the can in a new, sleeker format we are expecting this success to grow significantly in 2022.
"With sales of natural sparkling soft drinks showing significant growth, we know consumers are looking for healthier, carbonated soft drinks for a variety of on-the-go occasions. The new Sparkling Pink 25cl slim can makes it easier to pop in a handbag, pocket or picnic hamper.
"We are also delighted to be partnering with The Pink Foundation and donating 5p from every can of Pink sold to this very worthy cause."
Ocean Spray Sparkling Pink is made from concentrated cranberry juice and is completely free from artificial colours, flavourings, and preservatives. Its authenticity comes from the fact that Ocean Spray's cranberries are grown by a cooperative of more than 700 cranberry farmers with over 90 years of tradition and experience, ensuring the quality of their products. All profit goes back to the farmer families. For every one-acre of cranberry farm, 5.5 acres of surrounding natural land, such as wetlands, forests, and grasslands are conserved.
The brand has experienced almost 20% brand growth in the UK since 2019 (IRI data total soft drinks 52 weeks 23rd January 2022 versus same period in 2019).