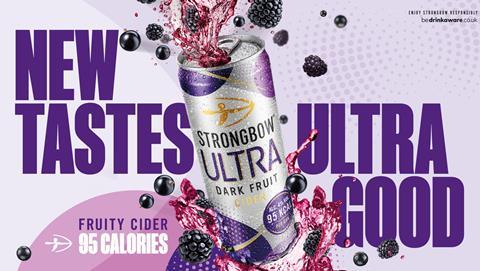 Heineken UK has unveiled Strongbow ULTRA Dark Fruit, a 4% ABV fruity cider at 95 kcals per slimline can.
Available in grocery and convenience stores from 1 March, Strongbow ULTRA Dark Fruit will come in single 330ml cans and packs of 4 and 10. Strongbow ULTRA Dark Fruit will be supported by a £12m marketing campaign covering digital, television ads and point-of-sale to drive sales in stores, as well as a 500,000 mini sampling can campaign.
"Consumers, especially generation Y and Z, want to see alcoholic drinks that fit with their desire to lead more balanced lifestyles. However, the category falls behind other FMCG segments such as desserts and snacking with limited lower calorie options, leaving a big gap in the market," Heineken UK cider brand director Rachel Holms said. "ULTRA is a refreshing, thirst-quenching cider sold in 330ml sleek cans at 30% fewer calories ml for ml compared with Strongbow Dark Fruit and taps into the lucrative on-the-go and impulse occasions, providing a big sales opportunity for stockists UK-wide.
"With 59% of consumers looking for lighter choices when shopping and 60% of Brits saying taste is the most important factor when buying a drink, there is a clear gap in the market for a lower calorie, flavourful cider, which ULTRA fills."