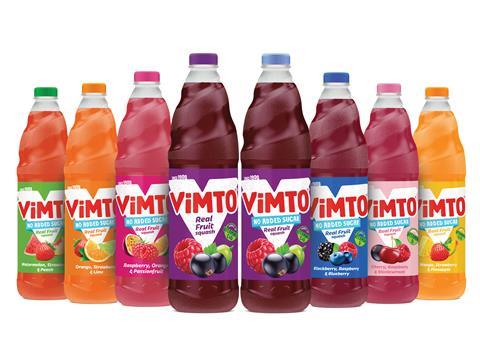 Nichols plc is introducing a new bottle design across its Vimto squash range with distribution set to be fully integrated by mid-summer.
The distinctive bottle features a contemporary design with fruit peel texture – delivering further stand out on-shelf. The texture of the new bottles serves to highlight the 'healthy hydration' messaging the brand is passionate about by mirroring the real fruit contained within every Vimto squash bottle. The bottles will remain widely recycled and made from 51% rPET, supporting the Nichols plc Happier Future strategy.
This summer will also see the return of Vimto's Find Your Different campaign. Building on the strength of last year's activation, the campaign will continue to drive overall brand engagement whilst showcasing its broad squash flavour range and vitamin benefits through a multimillion media investment which includes advertising across TV, VOD and cinema, along with a social and digital activation through the summer. Reaching over 80% of an audience of families, the campaign will be seen by around six million consumers.
Jenny Powell, marketing manager, Nichols says: "We are passionate about continuously developing our brand in line with consumer needs. This new bottle design highlights the importance of healthy hydration and the inclusion of real fruit juice within Vimto. As a business, we want to ensure that we're creating a happier future for our planet by doing things the right way, and having widely-recycled bottles across our range also ensures we're doing our bit. In addition, we are striving to reach 100% rPET by 2025.
"The return of our Find Your Different campaign allows us to engage with our consumers even further, encouraging them to find their different which is at the heart of the Vimto brand. This is a fantastic way for us to engage families and help them explore our range."
Vimto's brand value is currently sitting at its highest ever total of £105.6m (Nielsen). It claims to be the fastest growing squash brand in the UK (Nielsen), currently positioned as the No.2 squash brand in value sales (Nielsen) .