Nestlé's range of fruit and nut based Yes! bars will be promoted next month via the brand's first ever TV campaign.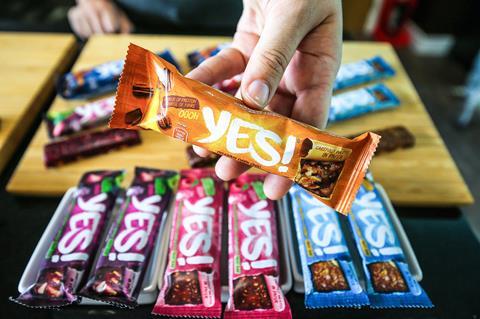 Airing from 7 October, the campaign is set to reach 55% of the brand's target audience and is the latest in a series of announcements from Yes!
To make the range easier to stock for independent retailers, singles of Yes! Tempting Dark Choc; Sea Salt & Almond; Delicious Dark Choc; and Banana & Pecan (rrp £1.20 each, 32g - 35g) will be available from next month in 12 count outers.
Each Yes! nut bar is vegetarian, high in fibre, and a source of protein. The fruit bars are vegan, gluten- and lactose-free, high in fibre, contain no added sugar and contribute to one of your five a day.
What's more, the brand has also recently revealed that its entire range of snack bars will be wrapped in recyclable paper from now on. The new packaging is currently rolling out across the convenience market.
Stefano Agostini, ceo for Nestlé (UK & Ireland), said: "Yes! represents exactly what more and more people are demanding from manufacturers like Nestlé now and for the future. Last year we introduced Yes! as an entirely new brand using wholesome ingredients and offering a healthier snacking option of tasty fruit and nut bars.
"Now we've turned our attention to the wrapper so that the packaging is sustainable and easy to recycle. It's an important step as we work to make all of our packaging recyclable or reusable by 2025."
Yes! bar wrappers will now carry the message "carefully wrapped in paper" to reflect the work that has been done in adapting production lines to handle the new packaging.
The paper itself comes from sustainable sources, certified by the Forest Stewardship Council (FSC) or The Programme for the Endorsement of Forest Certification.
Jas Scott de Martinville, global confectionery R&D lead for Nestlé, added: "This launch is the result of a lot of hard work at speed with our R&D teams delivering a recyclable paper solution for our Yes! bars in less than 10 months. It is an incredible achievement and one that we are all very proud of."