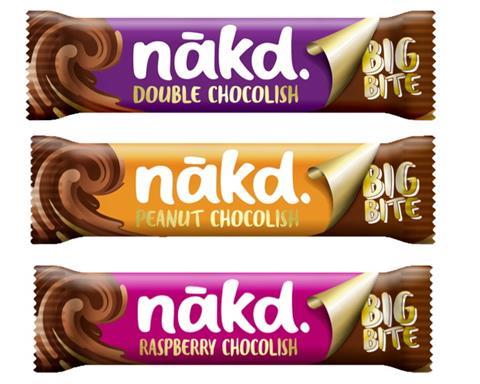 Natural Balance Foods has revealed a 50g Big Bite impulse bar in three varieties.
Available in peanut, double and raspberry flavours, the fruit and nut snack bars are dipped and drizzled in chocolate alternative Chocolish, which is 100% natural, has no added sugar, is vegan and gluten free. The bars have an rrp of £1.75.
"Each bar contains 50% less sugar than a normal chocolate bar and even counts as one of your five a day," said Louise Cullinane, senior brand manager for Natural Balance Foods. "This forms part of our ongoing strategy of a wholefood revolution in which we look to make healthier snacking more appealing for consumers without having to compromise on the more indulgent occasions.
"Only 3% of consumers find it easier to eat healthier on the go [MCA and HIM 2018] and 51% of consumers feel products with healthier benefits make indulgent snacks more appealing [Mintel 2019] therefore demonstrating the need for more healthier alternatives within the snacking category."
Nakd's original 35g Drizzled Chocolish bar has generated £1m since launching in April. However, the firm has identified the need to go bigger to appeal to a broader consumer base, stating that the number one reason for snacking is to satisfy hunger and a snack which is filling is the second most important factor for consumers behind tasty (Mintel 2019).
Cullinane said: "The new singles format is aimed at unlocking those indulgent treat occasions within the convenience sector when shoppers are looking for a snack which delivers a tasty and healthy snacking option whilst they are on the go".
The launch will be supported with in-store, social and PR activity for the Nakd Drizzled Chocolish range. It will also benefit from continued support of the overall Nakd brand with the Mind.Blown. campaign which is back on TV in 2020.
The 50g bars are available in Suma Wholefoods, Essential Trading and The Health Store, and have listings in BP, Shell and WHSmith stores.